There's never a dull moment at Fiat group, whose ever-turbulent management politics have resulted in the surprise departure of talented American Frank Stephenson as head of Alfa Romeo design after just nine months.
Stephenson is keeping mum about the reasons, although people close to the company suggest it is likely to have something to do with the appointment of briefly-retired former Pininfarina design chief Lorenzo Ramaciotti as styling chief for all the group's brands, including Abarth and Maserati as well as Alfa. Stephenson is unlikely to have been pleased that, in doing so, Ramaciotti was thus also taking over responsibilities previously held by Stephenson, who had been in charge of Fiat and Lancia design.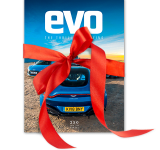 Subscribe to evo magazine
If you're passionate about the world's greatest performance cars, experience the thrill of driving with evo magazine. Try your first 5 issues for £5.
Stepping into Stephenson's Alfa shoes is Christopher Reitz, a 40-year-old Austrian who until now has been working on advanced, across-the-board design concepts. At least he is pretty familiar with Alfa's products, having done some work on the 147 replacement due next year.
The changes are coming at what is shaping up as a critical time for Alfa. Knocking the charismatic but problems-laden brand into shape has become a top priority for Luca de Meo, the dynamic young former Fiat brand chief exec who became CEO of Alfa in December and who is clearly being groomed as successor to overall Fiat CEO Sergio Marchionne.
De Meo was quoted recently as saying, 'Alfa means great cars with very essential design – smaller than competitors but more powerful. Cars that drive like hell.' Quite.
He will also lead Alfa's long-overdue return to the North American market next year – it has been absent since 1995 – and negotiations with domestic US car makers aimed at having US production of Alfa Romeos in place by early next decade.