BTCC Brands Hatch report
Jason Plato pulls a win out of the hat driving a Chevrolet Lacetti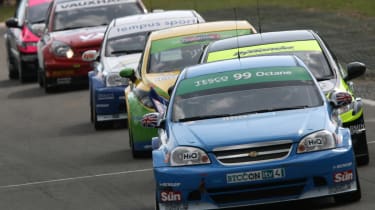 The opening three rounds of the new HiQ MSA British Touring Car Championship season at Brands Hatch saw Matt Neal, Robert Collard and Jason Plato come out on top in race one, two and three respectively. With the reigning world champion Fabrizio Giovanardi having a disastrous day, Matt Neal leads the Drivers' standings ahead of Team RAC BMW driver, Colin Turkington.
In race one Neal was on pole after an excellent qualification but he was forced to climb up the ranks after a terrible start. Race two saw Collard gain a first ever victory for the Airwaves BMW team which came after a hard fought race with Turkington. BTCC's very own Prodigal Son, Jason Plato, won race three after officials demoted Jonathan Adam from first to second after they deemed him to be to blame for an incident between the pair in the opening laps. Plato's win marks the first under the Chevrolet name in the BTCC since 1975.
As the Drivers' championship points out, however, Neal was the most consistent on the day. As well as his win in race one, he fought his way to third in races two and three to place him above Turkington, who had three good races. Despite not winning a race, Turkington lies just six points behind, with third, second and fourth place finishes. Collard is positioned only three points behind that, and Giovanardi languishes in seventh after two non-scores from the three races.
For 2001 champion, Jason Plato, fourth position in the championship is an excellent result considering he only knew he was racing for Chevrolet when he received a phone call four days before the race. Plato said 'We've had zero testing before this weekend so to get a win is beyond what we realistically thought was possible.' However, as Tim Harvey pointed out in his BTCC season preview, the Chevy's are 'race winners', so Plato's season could prove to be another great success, however out of the blue.
In the Constructor Championship Vauxhall/VX Racing has taken first place with the Ford/Team Aon crew just behind. VX Racing also heads the outright Teams' table and the top three in the Independents' Trophy are Turkington, Collard and Plato. In the Independent Teams' standings Airwaves BMW, Team RAC and RML lead the way.
Next, the BTCC takes to the high-speed Thruxton circuit in Hampshire on the 26th April.