New Esprit to challenge Gallardo?
Lotus supercar could be powered by 500bhp Lexus V10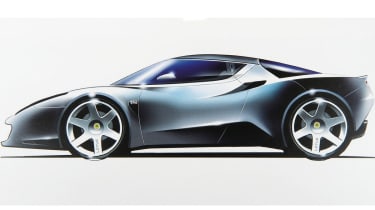 The new Lotus Esprit, due in 2012, could be powered by the high-revving, 500bhp V10 engine from the as yet unlaunched Lexus LF-A. Lotus's special relationship with Toyota gives it access to the Japanese giant's entire range of components, including engines from the Lexus range. This brings the prospect of a flagship, £100K-plus Esprit powered by the compact, 8500rpm V10 – a supercar to take on the Lamborghini Gallardo – as well as a slightly more affordable version powered by the 5-litre, 417bhp V8 from the Lexus IS-F and an entry-level model with a 300bhp Lotus-tuned direct-injection Toyota V6.
While V8 and V10 engines would raise Lotus's profile, don't rule out the idea of an innovatively propelled 'Eco Esprit'. The company firmly believes that the push towards more efficient vehicles suits its preference for lightweight engineering, while at Hethel 'powertrain engineering' is now 'propulsion systems', reflecting the company's interest in alternative fuels and hybrid solutions. This includes its collaboration with electric car maker Tesla.
The launch of the Evora, with its larger bonded and extruded aluminium chassis, gives Lotus the basis of the new Esprit, the rear section having been designed to take both transversely and longitudinally installed powerplants. But while Lotus has proved that it can develop a new model very quickly – the Evora took a mere 27 months – work on the Esprit won't get into full swing until the Evora is flying out of showrooms in the UK, Europe and US. Proton, the company's owners, will want to see that Lotus boss Mike Kimberley, who convinced the Malaysians to finance the Evora, has good commercial foresight. After so many false starts with the stillborn M250 project – Lotus's last attempt to create a new Esprit – the company will need to make a clear, strong case for a new car. The success of the Evora would help that no end.