NewsWe show you how to jump over a harbour in a rally car (assuming your name's Travis Pastrana) and, with the help of two Jaguar XFRs, demonstrate why everyone should be driving around on 'winter' tyres
DrivensThis month we've had a go in all sorts, ranging from the Spyker C8 Aileron supercar to Renault's stripped-out Twingo rally car, via the new BMW 5-series and Citroen's Mini-bashing DS3.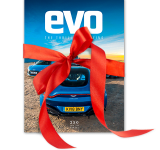 Subscribe to evo magazine
If you're passionate about the world's greatest performance cars, experience the thrill of driving with evo magazine. Try your first 5 issues for £5.
LettersDealers taking cars for extended 'assessment drives' when they go in for service is the hot topic this month. There's also a lot of love for Guy Martin
Lexus LFAThe bonkers Toyota finally meets the UK's roads. It also meets Chris Harris. It's hard to say which is the gnarlier proposition
Four-door heroesKicking off our celebration of high-performance saloons, we pitch the Aston Rapide against three tough rivals. We also drive every iteration of the iconic BMW M5, and the equally evocative AMG Hammer and Sierra Cosworth four-doors get a balls-out outing. German tuners now make the world's fastest saloons; examples from Brabus and G-Power battle it out and we visit motorsport's four-door heroes – Richard Meaden pits Subaru's rallying Legacy against Mitsubishi's Galant, while we unearth probably the most sophisticated race car ever. We also peruse the four-door faves of law makers and breakers
A-Z of the FutureDoes the prospect of the next 20 years scare you? It's the unknown element that's so terrifying isn't it? Well, just so that you can sleep at night, we tell you what's going to happen. Crystal ball at the readySubscriptionsWe have another genuinely famous and fast subscriber! Ade Mafe – part of the world record holding 4 x 200m relay team. He wrote a letter to us this month
Long-term testsTwo red BMWs have left us this month – our Mini JCW and our 135i. Also sneaking out of the car park for good is Harry's Porsche Cayenne Turbo
ShowroomThe key question when looking for a mk1 Focus RS is 'how much does it torque steer?'. If your forearms are burning after a test drive, then sample another one
The KnowledgeLots of added extras in The Knowledge this month; a lap of Bedford's West Circuit in Aston's V12 Vantage and a round-up of the zeniths and nadirs from our facts and figures. So now when it comes to boring your mates in the pub, you'll have the edge
Ask the ExpertsDo you have to have the feet of John Barker to perform a perfect standing start? Luckily for both you and him, no Birth of an Icon: Ford Escort RS1600The RS1600's quarter bumpers were originally designed for use on the Escort vans, but they also saved weight and aided cooling – not a lot of people know that, but now you do…
If you've got issue 141 of evo, let us know what you think on the forum