So the racing's all over, but there were a few moments and thoughts, as well as some comic incidents that slipped through the blog net and I thought were worth mentioning.
Ringers were rife. France had a Lafitte (daughter of Jacques), Spain had an Alonso (not that one), Turkey had an IRC racer, Belgium's Van Hooydonk was an F3000 race winner. Russia went one better and put Y. Gagarin in the car.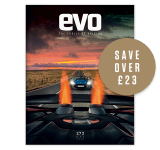 Subscribe to evo magazine
Subscribe today to have every issue of evo delivered straight to you. You'll SAVE 39% on the shop price, and get evo for its original cover price for a whole year!
Two of our international editions (Croatia and Greece) were in attendance, and both their national cars beat us. They enjoyed that.
Mazda gave away some light-hearted awards after the podium ceremony. The Germans won an award for the least damage to their car, the Czech Republic did the most to render their car undriveable and when called up to the stage grabbed the mic fromt eh President of Mazda Europe and tried to blame it on the Greeks (who'd nudged them under braking into turn one). The combined weight of the French five was the least (Jacques' daughter was particularly svelte), while Ireland was the heaviest team. Their one female member (who, to be fair, was well below the team average) still looked pissed off about being presented with a skipping rope four hours later in the hotel bar.
The Marangoni tyres were widely acknowledged as being useless – even after four hours the shoulders had barely begun to scuff. Rumour had it that the MX-5's chief development engineer (there were several Japanese big cheeses in attendance) was gutted that his car was being raced on tyres that didn't allow its chassis to shine.
Reliability was faultless. Of course the wet conditions and wooden tyres (quickly nicknamed Mahogany's) helped, but not one of the 30 MX-5s had a single issue with brakes, gearbox, differential, engine or suspension.
The MX-5 itself was the star of the show. Not just for the reliability, but because it made such a hugely entertaining and competitive racing car. OK, so ours was nervous under brakes and felt like it had castors at the rear as soon as you tried to get back on the power, but it was compact, precise, adjustable and so nicely balanced. I drove my entire stint with a massive grin on my face. Under-powered? I never thought so.
As an event it had a bit of everything. The Brits were the only country who bothered using the press centre for anything other than smoking or Facebooking – one of which restricted the breathing, the other the bandwidth, and combined to render the area unusable. The French spent a lot of time in the physio centre. A 50-year old Dutch TV presenter had the fastest lap. The coffee was never less than superb, the buffet never less than chaotic.
Lobbing a load of nations together and watching the national stereotypes play out is always good fun, especially in a pressured, competitive environment. We all laughed at each other, occasionally congratulated or commiserated with each other, but mostly teased, jeered and derided each other. If we're anything to go by it's a miracle the EU functions at all.
And finally: a comic moment worthy of Buster Keaton. One of the UK contingent managed to negotiate the first set of double glass doors that formed the entrance to our seen-better-days hotel, failed to notice the second set and was rewarded with a modestly bloody nose. Holding that with one hand he slammed the offending door, which cracked like crazy paving, held for a second, than shattered into a thousand pieces. He ran.
Extra Info