Mega evo competition
Win lots and lots of excellent evo stuff. And it couldn't really be easier to enter...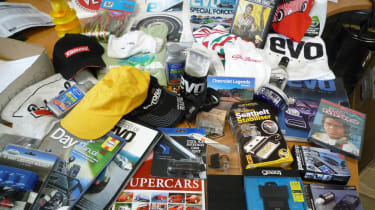 Our office is full of stuff, but we'd like to share the wealth. We've put together an evo prize hamper worth literally some money, and here is what it contains:
Selection of evo bookazinesCollectors' edition evo mags plus proof copies of evo coversA number of funky car t-shirtsLovely Alfa Romeo jacketLe Mans DVDJawbone Bluetooth headset kitIn car chargers, sockets and other gizmosMotorsport capsCG lock seatbelt stabilisers for trackdaysA trackday manual guidebookScreenwash, car wash and wax and rimwaxGT Racer DVDA race balaclavaA gumball machineChevrolet Legends Vol. 2 on CDA Renault Avantime ornament (obviously)White Lightning starring Burt Reynolds on VHS (obviously)A Hawaiian skirt (obviously)And, of course, an evo mug and stickers An amazing selection, yes? And all you have to do to get your hands on all of it is join us on the evo magazine Facebook page. It's a growing community already, and you can be a part of it. Click here to head there and sign up. In ten days time we'll randomly select a member from our Facebook fans and wing the goods their way. Good luck...