evo iPad app available now!
evo's first full edition on the iPad launches. Fully-interactive evo magazine with pics, video and sound.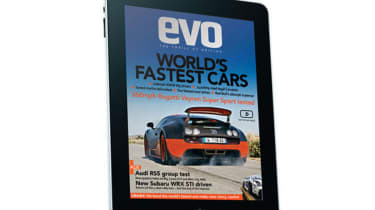 If you're visiting this page from Google and don't know what we're about, evo is the world's leading specialist car magazine. Produced by world-class motoring journalists and racers, evo communicates the raw emotion of owning, driving and testing the world's most desirable cars. It is widely known as the bible for performance car enthusiasts.
Designed and produced by us lot at evo, the iPad version takes evo's tagline 'the thrill of driving' to a whole new level.
Road tests, track tests and drive stories in the world's best performance cars are included with added video, sound effects, extended picture galleries and interactive features. The edition has been designed for both landscape and portrait formats too.
'evo and the iPad are a perfect fit,' says evo's Editor Nick Trott. 'The iPad enables us to embellish our class-leading motoring writing and photography with fantastic video, sound effects, interactive images and features.
'Our philosophy for the print magazine is to deliver a rich and deeply rewarding insight into the world of driving, racing and owning the world's greatest performance cars. The iPad edition is no different – the depth and quality of the content makes it tremendous value.'
The first edition will be free and is packed with content from issue 151 of evo including a road test and videos of the world's fastest car – the Bugatti Veyron Super Sport – plus a full feature and video of evo's race (and crash) in the Lamborghini Super Trofeo series and a group test with the new Audi RS5, BMW M3, Lexus IS-F and Mercedes C63 AMG.
This issue is available now, visit evo magazine on itunes here. 
And that's not all. We will soon be releasing a free download of this year's epic evo Car of the Year test while the second iPad edition - the full Review of the Year issue - will be available £2.99.
As ever, we'd love to hear your thoughts. Email us at ipad@evo.co.uk and keep your eyes peeled for updates at www.evo.co.uk or iTunes.