Watch live GT1 racing on evo
This weekend's Interlagos round of the 2010 GT1 World Championship can be watched live on this website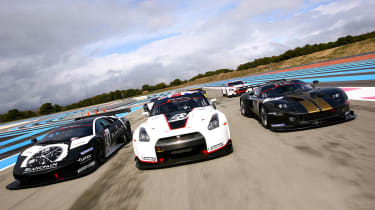 The final rounds of the 2010 GT1 World Championships can be watched live on this website .The latest race weekend is at Interlagos, with the following timetable, in UK GMT.
Sunday 28 November06.00 to 07.00 FIA GT1 World Championship  Warm Up17.15 to 18.45 FIA GT1 World Championship  Championship Race If you've not seen GT1 racing before then you really need to see this as Aston Martin DBR9s, Corvette Z06s, Ford GTs, Lamborghini Murciélago RS-Vs, Maserati MC 12s and Nissan GT-Rs all strive for supremacy. If you want a flavour of what it's all about you can view the past races right here too. We suggest you take a look at the qualification race from a previous round in the Algarve which was nothing short of sensational.
Scroll through the small thmbnail boxes in the video player above to view past GT1 action. You can also make the action full screen by clicking the icon of the arrow in a box.