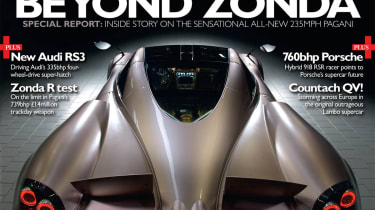 Buy a copy of evo 154 in our online shop
Subscibe to evo electronically on Zinio here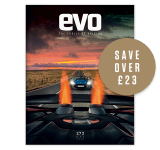 Subscribe to evo magazine
Subscribe today to have every issue of evo delivered straight to you. You'll SAVE 39% on the shop price, and get evo for its original cover price for a whole year!
Try evo Magazine's new iPad app here
NewsPorsche's 918 hybrid supercar becomes a racer and there's a plethora of new British sports cars
First drivesMercedes CLS63 AMG, Audi RS3, DMS Porsche 911 Turbo, Superchips Volkswagen Golf TSI, all-new Ford Focus, Renault Megane GT, Audi A1 quattro, Peugeot 508, Peel P50, Honda Jazz Hybrid
LettersYou really rate the reborn Lancia Stratos, but Audi's new Quattro ain't getting as much love
ON THE COVER - Pagani's new supercarThe Zonda is dead, long live the Huayra. It's pronounced Hiya-r… Why-ar… Harri… Look, what we do know is that it's got a 700bhp-plus twin-turbo V12 and is drop-dead gorgeous. Full story here
Pagani Zonda R drivenYes, £1.4m is a lot of money for a track toy, but this one's special
Free motoring!Put your money where our mouth is… We count down the best used performance buys of 2011, the best bit being that none of them will lose you a penny. Hopefully
Across Europe in a Lamborghini Countach QVHarry Metcalfe visits the Lamborghini factory in his Countach, finds out if it really could do 195mph in 1986, and then drives it 1000 miles home
HOT HATCH TEST - Citroen DS3 Racing v rivalsWith 204bhp and rally breeding, the DS3 Racing is Citroën's hottest hatch ever. Does it have what it takes to beat its feistiest foes: the Mini JCW, Clio RS 200, Corsa VXR and Polo GTI?
Long-term testsAn Audi RS5, Porsche 911 GT3 and Peugeot RCZ join the fleet
BUYING GUIDE - Renaultsport Clio 182DS3 Racing a tad pricey? Buy one of France's best ever hot hatches for a measly four grand
TRACK BATTLE - Fabia vRS v IntegraleBoth are green, turbocharged and boast five doors, but which is quickest? There's only one way to find out… The Knowledgeevo's car data section: rattling owners' club cages since 1998
ME AND MY CAR - John Newey and his MG SV-RRowan Atkinson's ex-evo Fast Fleet car is now an enthusiast's prized possession
Buy a copy of evo 154 in our online shop
Subscibe to evo electronically on Zinio here
Try evo Magazine's new iPad app here