Online posse finds stolen Scooby
Facebook and Twitter users help track down unique drift Impreza stolen from a car show at Santa Pod Raceway.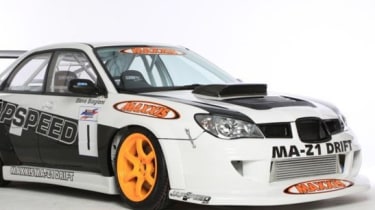 A unique drift Impreza stolen from a car show on Sunday has been recovered with the help of Facebook and Twitter users who tracked its progress.
The Team JapSpeed IJZ Subaru Impreza was stolen from a display stand at the Performance Vauxhall show at Santa Pod, despite being immobilized. The car was then filmed travelling down the M1 and M25, with users sharing its location on social media sites and YouTube. Film footage shows the car driving down the M25 without numberplates. 
Police recovered the car from a garage near Maidenhead yesterday with its rear bumper, spoiler and lights removed, but otherwise undamaged. Four people have been arrested in a joint operation between Thames Valley and Bedfordshire Police.
'The support we've had has been simply overwhelming,' said JapSpeed's Paul McCallum, 'for those wondering, the car was disabled, however those involved managed to start it while it was left unattended. We've been to hundreds of shows and this has never happened before - people usually have respect. It's a shame as it means we will have to be extra vigilant with leaving the car on show for the 99.9 percent of punters who just want to enjoy the car.'