A line-up of star drivers from the 1980s, known as the 'Rat Pack', will once again be lining the grid, this time for the Scirocco R Cup race at Brands Hatch on 18-19 May.
The 'Rat Pack', as they liked to call themselves, were a group of young racing drivers who all climbed up the racing ladder together, through Formula Ford, Formula Three, Formula 3000 and onto Formula 1.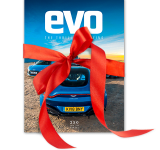 Subscribe to evo magazine
If you're passionate about the world's greatest performance cars, experience the thrill of driving with evo magazine. Try your first 5 issues for £5.
Damon Hill, Mark Blundell, Perry McCarthy, Julian Bailey, Martin Donnelly and honorary Rat Pack member David Brabham, will all be joining the Brands Hatch race in support of Damon Hill's charity HALOW.
Perry McCarthy was behind the idea from the start. 'We are all really good friends, and we have regular reunions. This one will be a bit more serious but we are all looking forward to it. I haven't actually sat in a racing car for eight years so I don't expect great things but it will be a lot of fun and we will be ready for a party when the chequered flag is waved.'