Tushek Renovatio T500 launched in Monaco
The Slovenian supercar manufacturer receives two more orders, and announces plan to set up international dealerships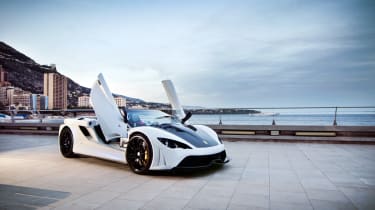 Tushek supercars launched its new model, the Renovatio T500, at the Top Marques show in Monaco - receiving two firm orders. The supercar was fully developed in-house by Tushek, a Slovenian company, with prices starting from around £230,000 (€300,000).
Prior to these two new orders, the company had already built and sold two cars, and following a number of international enquiries, is in the process of setting up official dealers around the world - with plans for a UK dealer in the pipeline.
Slovenia's first supercar uses a mid-mounted 4.2-litre V8 engine, sourced from the Audi R8, which produces 443bhp. In a car weighing just 1090kg, that's a favourable power-to-weight ratio, which gives the Renovatio a manufacturer-claimed 0-62mph time of 3.7secs and 193mph top speed.
Aljosa Tushek, managing director of Tushek Supercars, spoke about the latest showing of the T500 at the Monaco show: 'We were pleasantly surprised by the amount of interest the Renovatio T500 has generated'.