SRT Viper GTS-R ALMS car
The SRT Viper will be joining the American Le Mans series in August, adding to the already epic line-up of teams and cars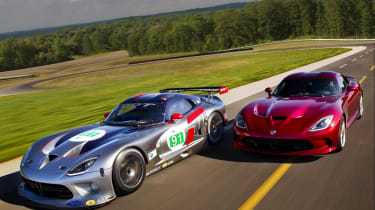 The 2013 SRT Viper GTS-R will make its premier track appearance next month. SRT will be running an identical pair of track-ready Vipers, and they will begin competing in the American Le Mans Series at Mid-Ohio on 4 August.
These GT class models are tuned and fettled incarnations of the production car and they have been designed and developed by US motorsport firm Riley Technologies, who fitted the large rear wing, body kit and revised bonnet.
Due to class rules and regulations the car will weigh no less than 1245kg, churn out between 450 and 500 bhp and is limited to 180 mph. The Viper looks to have some serious competition in its group this year with the likes of the Aston Martin Vantage, Corvette C6.R, Porsche 911 GT3 RSR, Ferrari F458 Italia and last year's winner, the BMW M3 GT all scrapping for the title.