Lebanese company unveils supercar plans
Beirut-based company W Motors has unveiled plans to build Hyper-Sport and Super-Sport performance car models.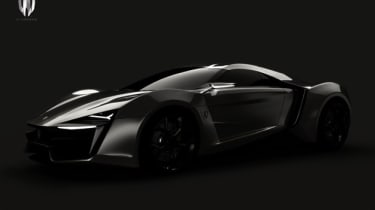 A new company, called W Motors was launched recently, and the new startup company – based in Beirut, Lebanon – has announced that it will start production of two hand-built models, the Hyper-Spot and Super-Sport to cater to the supercar-hungry, oil-rich region.
Some well-established names from the automotive tuning sector have been drawn in – including Austrian engineering firm Magna Steyr, and Porsche tuning firm RUF.
The first model to be sold will be the Hyper-Sport, which is due to be launched in Dubai in December. It will be limited to just five units, and with 'diamond-encrusted' LED lights, a gold-plated bonnet, lightweight carbon fibre chassis and a fully functioning holographic display – it will be a money-no-object car.
There hasn't been any talk of performance, beyond saying that it should crack 0-62mph in 2.8secs, and has been 'meticulously engineered to give the right balance between power, torque and speed'.
Ralph R Debbas, chairman of W Motors, is the driving force behind the project, and has even gone as far as calling the Hyper-Sport the 'most luxurious sportscar in the world'. No price has been announced.