Astra range gets Bi-turbo engine
Vauxhall will be adding its hot bi-turbo diesel engine to the whole Astra range, including five-door hatch and Sport Tourer.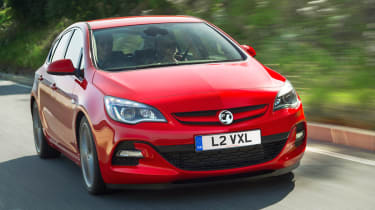 Vauxhall has announced that it is fitting the 187bhp 2.0-litre bi-turbo diesel engine, first seen in the Insignia, to all Astra models. Performance figures haven't been released, but Vauxhall claims the bi-turbo will hit 62mph in under 8 seconds and go onto a top speed 'in excess of 135mph'.
The car uses a standard start-stop system to help it hit its 134g/km CO2 figure, and combined 55.4mpg economy. Vauxhall has opted to use two sequential turbochargers: A small turbo to spool up quickly at low revs and a larger one to provide more boost at higher revs – which provides 236lb ft of torque from as low as 1250rpm.
Previously, the Astra GTC was the only model fitted with the engine, but all UK-built Astra models including the five-door hatch and Sport Tourer can now be ordered with the bi-turbo motor. Order books open tomorrow, with deliveries expected to start later this year.
Prices start from £24,095 for the Hatch and from £25,110 for the Sports Tourer.