Chelsea AutoLegends
Chelsea AutoLegends looks bigger and better than ever for 2012 – themes this year include London Cool, Stars' Cars, Le Mans and Formula 1.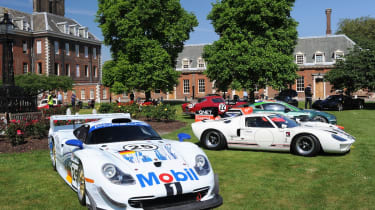 Chelsea AutoLegends, the London celebration of stylish automotive and motor sport heritage at the Royal Hospital Chelsea, is back for its third year in 2012, on Sunday 2 September. More than 15,000 people are expected to descend on the grounds of the Royal Hospital to view over 500 cars, motorcycles and racing vehicles.
A celebration of cars, motorcycles and automotive endeavor, themes this year include London Cool, Stars' Cars, Le Mans and Formula 1 celebration tributes, and La Rue Marche French Village. In addition, successful female motor sport protagonists will be the centre of attention in a Fast Ladies area, while the Restoration Corner and Techno Park initiatives will concentrate on the past and future of the automotive world.
Chelsea AutoLegends is hosted in association with the Royal Hospital Chelsea and, for 2012, will be supporting Armed Forces charity Walking with the Wounded.
Tickets for this year's event will be on sale from 16th April and will be priced at £15 in advance and £25 on the door, per person. For those aged 12–16, those prices are reduced to £10 and £20 respectively, while entry is completely free for those under 12.
For those bringing a car or motorcycle of note, which is welcomed by the organisers, the entry fee is £35 for a car and driver, £25 for a motorcycle and rider.
And you can get 10 per cent off tickets with evo; simply use the promo code CAL2012EVO at www.chelseaautolegends.com to take advantage. You can get updates on the event by following Chelsea AutoLegends on Twitter @ChelseaAutoLgds or join the conversations on Facebook at www.facebook.com/ChelseaAutoLegends.