Pikes Peak International Hill Climb 2012
Rhys Millen has won the 2012 Pikes Peak hill climb, setting a new world record in the process.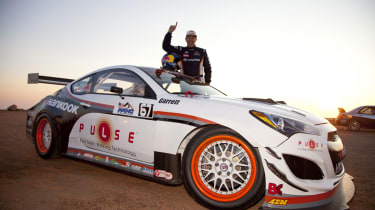 Finishing with a time of just 9:46.164, Rhys Millen has won the 2012 Pikes Peak International Hill Climb driving a fully race-prepped Hyundai Genesis Coupe. The second place finisher, French rookie Romain Dumas, drove his equally well-prepared Porsche 911 GT3 R to finish in 9:46.181 - less than two-hundredths of a second off the winner.
Overall third place was taken by Carlin Dunne, who rode a Ducatti motorcycle to up the course in 9:52.819, making this the fastest motorcycle up the course in history.
The legendary hill climb, which runs up the side of Pikes Peak - a mountain in the foothills of the Rocky Mountain range in Colorado, USA - has been running since 1916, and for the first time in nearly 100 years, the entire road has been covered in asphalt. Formerly, the public road would have been half tarmac, and nearer the summit a dust track.
There was a big crash in 2011 at the corner known as 'Devil's Playground', and another car has gone off at exactly the same place this year. The Mitsubishi Evo IX driven by Jeremy Foley ran wide, dropping off the side of the mountain, and was caught on video (below). Both Foley and his co-driver survived the accident. 
The event was postponed last month for the first time ever, due to the ravaging wildfires in Waldo Canyon - which forced more than 35,000 people from their homes in the area.