SRT Viper GTS launch edition to be unveiled in Monterey
The SRT Viper GTS Launch Edition is set to be unveiled at the Pebble Beach concours.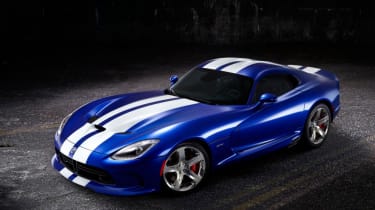 The SRT Viper GTS Launch Edition is set to make its debut this week, painted in the distinctive blue with white stripes - which will only be offered as part of the Launch Edition.
Also exclusive to the Launch Edition are the polished five-spoke forged-aluminium wheels, along with 'Stryker' badges - the new logo of the Viper - on the steering wheel and bonnet. It will also feature a numbered plaque inside.
The colour scheme harks back to the original Dodge Viper GTS of 1996. The new GTS will first be unveiled at 'The Quail: A motorsports gathering', and will be on display throughout the weekend on the concept lawn at the Pebble Beach Concours.
SRT's flagship Viper is set to return later this year with two new models - the SRT Viper (the roadster) and SRT Viper GTS. Both will be powered by all-aluminium, 8.4-litre V10, delivering 640bhp and 600lb ft of torque.
Read all about the new SRT Viper here.