Nine-speed transmission for Range Rover Evoque
Land Rover debuts a new nine-speed automatic transmission in the Evoque at the Geneva motor show. Details and driving impressions here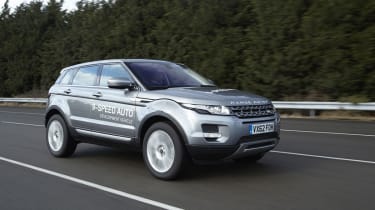 The Range Rover Evoque is to receive a new nine-speed automatic gearbox developed in conjunction with ZF – and we've tried an early prototype.
The new gearbox replaces the six-speed auto. Improved fuel economy and reduced CO2 is promised, as is an adaptive shift system that Land Rover claims learns various driving styles.
Unlike the eight-speed ZF automatic gearbox found in the BMW M135i, Jaguar F-type and XF, the new nine-speed gearbox is designed specifically for transverse engine configurations. A clever (and patented) duel dog clutch system replaces a conventional clutch pack, which combined with a new hydraulic pump and some tight packaging of the gear nests results in a 7.5kg weight saving over the six-speed auto. The new gearbox is just 6mm longer than the outgoing version.
While our prototype test drive was limited to a brief spin around Geneva accompanied by a Range Rover employee (no towing or off-roading, sadly), we can report that the system appears smooth, refined and controllable. The gearshifts are virtually imperceptible, and quick too.
The gearbox will in certain conditions skip gears. For instance the ratios will swap from 9th to 5th if required. If you are travelling too fast for a manual downshift, the gearbox will remember the request and shift down when appropriate and/or during kickdown.
We didn't reach the giddy heights of 9th gear during our test drive, but Land Rover claims the highest ratio delivers lower revs and correspondingly better fuel consumption. The lowest ratio is lower than the previous six-speed auto, promising better towing and off road performance and control.
The last point summarises the new nine-speed automatic from ZF. Its primary purpose is to deliver better efficiency. Will it be enjoyable to use on the road, and will all those ratios prove to be an impediment to driver enjoyment? We'll reserve judgement until a more thorough test drive.