Beginners guide to the Pikes Peak Hill Climb 2013
With the Pikes Peak International Hill Climb taking place on Sunday 30 June, here's an evo guide to the legendary event.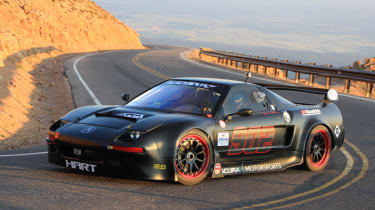 What is it?
Dubbed The Race to the Clouds, the Pikes Peak International Hill Climb is an annual up-hill sprint on the 12.4-mile track, climbing 4720ft (1439m) at an average gradient of seven per cent. The summit's altitude of 14,110ft (4301m) is not only a challenge for the drivers but the cars themselves due to the lower levels of oxygen in the air, which reduces power output.How did the Pikes Peak hill climb come about?
The second oldest race in North America (after the Indy 500), the Pikes Peak rally was founded in 1916 by Spencer Primrose, a road builder who had just finished widening the road and decided that a competitive event was the logical way of promoting it. Initially the climb consisted of approximately 70 per cent tarmac and 30 per cent gravel, however the remaining gravel sections were tarmacked over prior to the 2011 event. The climb starts on mile seven of the Pikes Peak Highway and continues to the summit. Since the course was completely tarmacked, times have naturally decreased, with the course record of 9:46 being set by Rhys Millen in a Hyundai Genesis Coupe last year. With the exception of the open-wheel class, all records for either motorbikes or cars, were set in 2011 or 2012.
Who takes part?
A variety of competitors from motorcycles, open cockpits, experimental hybrids and trucks to fully fledged works teams with household names, such as Peugeot's unlimited class 208 T16 entry with nine-time World Rally champion Sébastien Loeb. The climb always takes place in the summer (on June 30 this year), and 170 competitors took part in last year's event.
Where can I keep up-to-date?
Results updates and radio commentary are available from the official PPIHC event website.