Drayson Racing smashes four land speed records: Video
Lord Drayson has piloted his Electric prototype to an average 205.139mph over a flying mile in the UK. Details and video here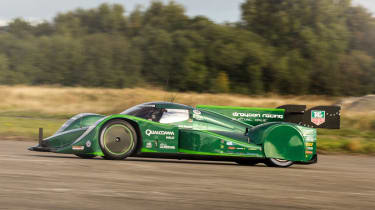 Lord Drayson has broken a total of four Land Speed Records for a sub 999kg electric vehicle. The record attempt took place at Elvington Airfield, in the Drayson Racing prototype.
Drayson Racing has been developing the electric racing car, and its drivetrain, with the aim of proving that the technology works, and has a future in all forms of motorsport and transportation. This is the team's second time at the airfield, improving significantly on the June results.
The car was driven by Lord Drayson, who managed to set a new average speed over one mile – 205.139mph from a flying start. The racer also took the record for an electric car over a measured quarter-mile, managing to crack the ten-second barrier of 9.742secs.
The car reached an unofficial top speed of 219mph, and the speed run also takes the record for the measured mile for cars of any propulsion type, driven by their wheels. See the video of the record runs below.
The Drayson Racing FIA World Land Speed Record from Drayson Racing on Vimeo.