Sebastian Vettel: four-time world F1 champion
Sebastian Vettel wins in India to confirm his fourth consecutive F1 world championship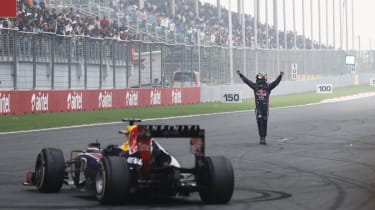 Sebastian Vettel has secured his fourth Formula 1 world championship, writing his name in history beside the sport's biggest names. Blasting across the finish line of the Buddh International Circuit to win the Indian grand prix after 60 laps of sweaty tyre smoke and engine noise, he broke into a celebratory doughnut. He has achieved his fourth title after amassing over 100 points over his closest rival, Fernando Alonso, sealing honours with three races still remaining.
Many who say that the sport has become boring with Vettel's complete dominance over all of the other drivers will find more ammunition in his win yesterday. He led from pole and even after a risky pit change, he caught and passed the rest of the field with relative ease.
This win puts his name alongside the greats of the sport such as Juan Manuel Fangio and Alain Prost. It also makes him the second German to achieve four titles after Michael Schumacher. At his current rate Seb may even surpass Schumacher's mammoth seven world titles in far less time.
Now the challenge for Vettel will be to see whether he can match Alberto Ascari's record of nine consecutive wins. His current tally is six and matching Ascari will further affirm him as an all-time great.
As this victorious young driver looks forward to his future there seems to be no car and driver pairing to match Vettel and the carbonfibre beast in which he battles. But what will the affect of next season's major rule changes have on his success? Particular developments over the current regulations include an engine change and tweaks to the fuel allowances and the ERS (energy recovery systems).
We know that all of the drivers are immensely talented but they can only go as fast as their machines allow them. As Formula One has developed so has the ethos, with the major focus shifting from how far the drivers are willing to push the machines to how far the machines can physically be pushed. The length of Sebastian Vettel's winning streak will partly be dictated by what can be pulled off behind closed doors in the heart of Red Bull Racing.