New Lister Knobbly launched
Pricing and final spec details for the Lister Knobbly has been announced, ready for a new racing series next year. Details here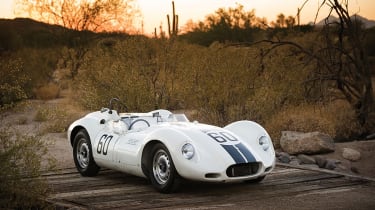 60 years since the 'Knobbly' Jaguar first left its Cambridge factory, Lister Cars will once again see the legendary sports car roll out of its doors this April.
With over half of the planned 2014 production having been sold, Lister's decision to remake the hand-built race and sports car has been a great success. The car, coined as 'Knobbly' thanks to its curved bodywork, is being built to the exact, original specifications of the iconic first cars to leave Cambridge.
As outlined in the recently published 60th Anniversary Lister Jaguar Brochure, 'Knobbly' cars will feature powertrains almost identical to that of the original car, with engines and gearboxes of Jaguar D-type-specification being provided by renowned experts, Crosthwaite & Gardener.
Chris Keith-Lucas of CKL Developments will be responsible for race and track preparation, the replica race cars conforming to full FIA/HTP Appendix K specification. To get the cars on track, a series of Lister sponsored historic race meetings are being planned for 2015, just in time for the company's 125th year anniversary. These race cars will be available for £249,000 (excluding tax), whilst road going versions will require an extra £10,000 to ensure they adhere to road laws.
Managing Director of Lister Cars, Lawrence Whittaker said: '2014 is a very special year for us, as it celebrates 60 years since Brian Lister built the first Lister car at George Lister Engineering. Today we are still hand-building cars at George Lister Engineering in Cambridge and use many of the traditional methods that were used in 1954, as well as one or two of the original engineers.'
April 2014 will be an especially important time for Lister. With press cars being unveiled and a launch event at a UK track, the firm will be in the media spotlight ahead of customers receiving deliveries. Whittaker is clearly excited ahead of the unveiling; 'it's fantastic to think that Lister has a 60 year history as an all-British owned car maker, and that it now has a fantastic future ahead of it... Watch this space!'