Nurburgring buyout
Could the Nurburgring dramas be a thing of the past? German part maker Capricorn pays 100m euros for the business, and will take down the roller coaster...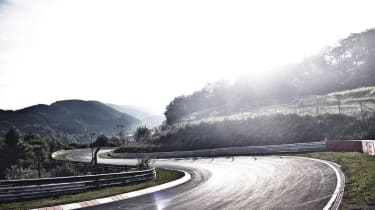 Behind the recent drama of lap-record-swapping, the Nürburgring has been facing a tough test of its own. Concerns over the circuit's future have been rumbling on for a while now, its owner – Nürburgring GmbH – filing for insolvency in 2012. There's light at the end of the tunnel, though: German car parts company Capricorn has had a bid 'in excess of 100m euros' accepted for the business.
It's significant not only because it ends months of worry and uncertainty (which culminated in a high-profile 'Save the Ring' campaign with Sabine Schmitz among its public faces), but because up to 25m euros will be invested in the site, and happily without theme park connotations.
The 'Ring Racer' rollercoaster is being removed, as is the clunky and unloved Ring Card payment system, while a proposed 'Automotive Technology Cluster' will replace the Grüne Holle entertainment complex. As well as aiding local businesses, it should further heighten the regard with which the Ring is held among car development circles.
But what about us, the enthusiasts? Well, Capricorn will 'continue to run the business operations of the Nürburgring, with its numerous motor races, music events, tourist and test drives as well as the hotels and holiday facilities', we're told. This appears to be good news, though increased investment in the Ring's industry activity could restrict the times the circuit is available for its celebrated tourist laps. Only time will tell.
Capricorn will take over Nürburgring GmbH's assets on January 1 2015, providing the European Commission doesn't look for it to repay state aid. The full 2014 calendar – including the Nürburgring 24-hour race on June 21/22 – will take place as planned.