Thruxton Easter Revival 2014
Have fond memories of '90s BTCC? The Thruxton Easter Revival might be just the thing for you. Details here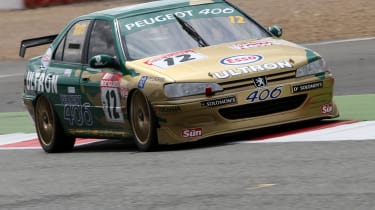 If names like Cleland and Watts send you all misty-eyed about the halcyon days of touring cars, then Thruxton's Easter Revival meeting is where you should be heading this weekend. The Hampshire circuit will be hosting the first round of the new-for-2014 Super Touring Car Championship and the line-up is mouth-watering.
The grid for the touring car race will consist of Alfa Romeo 156s, Nissan Primeras, BMW M3s, Honda Accords, a Williams Renault Laguna, a Zakspeed mkII Escort (a personal favourite, for obvious reasons) and a flame-spitting Ford Sierra RS500. There will also be a 1998 Peugeot 406 and a 1997 Vauxhall Vectra bouncing off the kerbs and the names on the respective sides of these two cars will be… Patrick Watts and John Cleland.
Watts is quite clear why he's excited about getting behind the wheel of the 406 again this weekend: 'The biggest motivation for driving these Super Touring cars is that they are so much fun!' he explained. 'They were built in an era where there were very few design and cost restrictions, and the best drivers in the world were developing them. They were built like F1 cars, but had to conform to a few loose regulations using mass-production body shells and a two-litre, 8500rpm limit. To construct a Peugeot 406 from scratch in 1998 cost over £400,000, such was its quality and sophistication.'
Cleland was also nostalgic for his old cars: 'I drove my title-winning Cavalier again at Goodwood a few years ago. I hadn't so much as seen it since 1995, and when I sat in it, I was struck by how basic it was – nothing fancy or flash at all. There was no carbon-fibre, no multitude of switches, nothing. Compare that to the 1997 car [that he will be driving at Thruston], which was such a technical piece of kit. Everything was bespoke, it had a full carbon-fibre floor and if it moved on the car, it was data-logged! The only thing that bore any resemblance to the road car at all were the wiper blades...'
While there might not be as much paint swapping and wing-mirror clashing as in the '90s Cleland was adamant that he won't be on some sort of a demonstration run: 'I spent 35 years of my life being competitive in motorsport,' he underlined. 'I personally don't have anything to prove anymore. I don't need to win, but no matter how much you say it's purely for fun, it's not – you never want to finish second. Everybody wants to win.
'There are a couple of loose cannons out there, which invariably seems to be the case in touring cars, but hopefully we can race closely in what is rather expensive machinery without ending up off the road. Thruxton has always been a fun circuit to drive, too, and although this particular car never did very well there, now's the opportunity to set that record straight...'
Tickets are available on the gate and start at £12. Also on the bill are Historic F2 cars, Thundering Formula 5000s and Historic Formula Fords amongst others. For more information go to www.thruxtonracing.co.uk