Sir Jack Brabham obituary
An obituary to Sir Jack Brabham, the Australian three-time Formula 1 world champion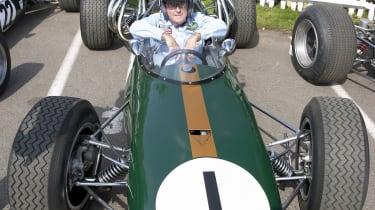 Three-time Formula 1 World Champion Sir Jack Brabham has passed away at the age of 88 at his Gold Coast home in Australia.
A legend of global motorsport, he died Monday morning aged 88 with his wife Lady Margaret at his side.
Having enjoyed a racing career that included 126 Grand Prix starts between 1955 and 1970, Brabham is often noted for being the first and only Formula 1 driver to win a World Championship in a car bearing his own name, as well as the first driver to be knighted for his services to motorsport.
During his 15 years at the top rung of the motorsport ladder, he won 14 times and became world champion in 1959, 1960 and 1966.
Commonly referred to as both a mastermind driver and engineer, Brabham was often found with greasy hands as he worked on the car along with his mechanics. It was this attitude that earned him the respect of much of F1's followers, many labelling him as one of the very best despite rivals of the time, Stirling Moss and Jim Clark, stealing the limelight.
Born just south of Sydney, long before his quest to win in F1 had begun, an 18 year old Brabham began to master his skills in mechanics whilst working for the Royal Australian Air Force. Little did he know these skills would benefit him so heavily in his racing career, something he was able to begin after being demobilised from service in 1947.
Initially Brabham competed in his native Australia, making a name for himself down-under in Speedcars – midget sized racers that compete on dirt ovals – before moving to hillclimbs and then circuit racing. But dreams to race in Formula 1 eventually forced Brabham and his first wife, Betty, and son, Geoff, to move to the UK in 1955.
After managing to wrangle his way into a Cooper Formula 1 seat, an unsuccessful debut race with an uncompetitive car at the 1955 British GP was thankfully followed by a third place finish at a non-championship event at Snetterton. Having battled with F1 star, Stirling Moss, for much of the race, the attention of the paddock was finally drawn to Brabham.
Although Brabham grabbed seats in Cooper Formula 1 and 2 racing cars, as well as races with Aston Martin in sports cars over the next few years, securing a permanent seat was still something he hadn't managed to do.
Brabham's determination didn't fade however, and eventually it was also met by a little more fortune. 1959 saw the first year Brabham's Cooper racing cars were fitted with 2.5-litre engines, something he took full advantage of by finally clinching his first World Championship. That success was immediately followed by another crown in 1960, ensuring Brabham cemented himself up with the greats of Formula 1's then short history.
After a rule change to a 1.5-litre engined formula resulted in a far less successful 1961 season for Cooper, Brabham moved to race for his own outfit in 1962. Initially the move proved unsuccessful, but thankfully the introduction of a new 3-litre formula in 1966 saw Brabham return to his winning ways. Driving his Repco V8 powered Brabham, he took four wins across the season to beat Ferrari's John Surtees to the crown.
Brabham nearly repeated '66's triumph as he almost went on to win in 1967. But from then on his luck was to change, as between 1968 and his final 1970 season the three-time world champ only grabbed one more win. With little success on the horizon and a wife who feared for his life, a 44 year old Brabham announced his retirement from motor racing entirely – his occasional appearances in Indy 500 and the Tasman Series included.
But thankfully the racing world didn't lose Brabham entirely, with few chances to jump back in a racing car being missed by the Aussie. One of the most memorable post-retirement races for Brabham was in 1978, when he raced another F1 legend, Juan Manuel Fangio.
In what was supposed to be a friendly demonstration run ahead of the weekend's Grand Prix race, Brabham and Fangio went wheel to wheel in a fantastic battle between two eras of racing cars and their drivers. A power advantage for Fangio's older, larger engined Mercedes W196 and handling advantage for Brabham's lighter, more advanced Brabham resulted in a fantastic on-track battle that proved the two drivers' hunger to win hadn't faded in retirement.
In more recent times, Brabham was frequently seen taking part in historic races, whilst his sons, Geoff, Gary and David have raced in F1, Le Mans, IndyCar and sports cars with much success between them. Brabham even has two grandsons, Matthew and Sam, racing in junior single-seater categories in the US and UK.
Whilst it is sad that motorsport has lost one of its most loved heroes, there's no doubt his legacy and name will remain prominent in motorsport for years to come. Perhaps it is also heart-warming to hear that just one day before his death, Brabham was still out doing what he loved, appearing in public alongside one of his own classic racers to inspire future generations. Motorsport may have lost Sir Jack, but it's clear to see Sir Jack never lost motorsport.
evo offers its sincere condolences to Brabham's family and friends.