Formula E race practice completed
A replication of a Formula E race day has been carried out ahead of the series starting in September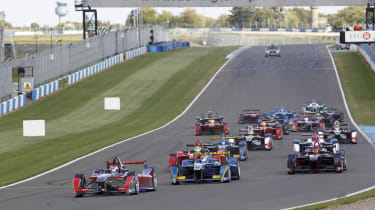 The first race of the FIA Formula E season is just one month away, and in preparation the ten teams competing in the series have now completed two full-length race simulations for the first time.
A temporary pit lane and pit boxes were set up at the series' home circuit of Donington Park to mimic the setup used at each of the city-based street circuits the series will visit between September and the final round in London in June 2015.
Each Formula E team will field two cars per driver. Each driver will pull into the pit box around half way through each race in order to change vehicles, before speeding away to complete the race. The car swap is necessary to offset the short range of each car during the 60-minute race period.
The ten Formula E teams brought a full complement of cars to the race simulation test, which replicated a full race day: drivers complete two non-qualifying sessions, of 45 and 30 minutes respectively, before a qualifying session split into four groups of five cars. The 60-minute race is then run. All sessions take place in the same day to help minimise the disruption of running a large motorsport event in some of the world's busiest cities.
'Putting on a major sporting event in cities around the world is a massive undertaking and requires careful preparation' explained Alejandro Agag, CEO of Formula E. 'We want the Formula E Beijing ePrix to be a fantastic spectacle, which is why we're leaving nothing to chance by rigorously testing all the systems beforehand'.
Agag adds that the organisers are 'pleased with how things went'.
Former Formula 1 driver and Audi Sport ABT team member Lucas di Grassi and e.dams Renault driver Sebastien Buemi set the early pace in testing, with lap times around Donington in the cars' full-power qualifying trim just a few tenths shy of Formula 3 cars.
You don't need to be an ex-F1 star to experience Formula E, however. The Spark-Renault SRT_01E is now ready to download in the Forza Motorsport 5 racing game on the Xbox One. The car is available free in the Xbox Live marketplace – while the season itself begins in Beijing on September 13.