Vmax200 evoMAX event announced
A new evo-partnered supercar event has been announced by Auto Vivendi, running alongside the Vmax 200 top speed challenge. Details here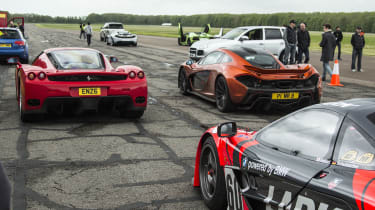 evo Magazine has been announced as the official partner to the illustrious Vmax200 evoMax, an event that allows supercar and hypercar owners to stretch the legs of their ultra fast machinery in an attempt to surpass 200mph.
With two miles of closed runway to play with, the invite only event sees drivers of a whole host of dream cars being charged along at near top speed, with a LaFerrari, McLaren 650 S, Lamborghini Aventador Roadster and Ferrari 458 Speciale all confirmed as attendees.
Craig Williams, founder of Vmax200 and Auto Vivendi director said, 'we are delighted that evo magazine will be our official media partners for this very exciting event. For us, evo is the ultimate motoring magazine and one that both we and our Vmax200 members all read avidly so it was a natural fit.'
Though no spectators can attend the event due to safety reasons, members of the Auto Vivendi club will be able to take part in the 200MPH challenge which is being run alongside evoMax. With the keys to a Lamborghini Aventador Roadster, laser speed traps will determine who reached the highest top speed at the day's event.
The cost of membership for the Auto Vivendi club starts at £5000, but that gives members access to a wide range of evo approved supercars worth in excess of £2million. Members can also attend global supercar lifestyle events, including trips to motor shows by private jet and F1 experiences.