Prodrive takes on Stratos
Fenomenon has enlisted Prodrive to take its Stratos sports car project to the next level. Prodrive will perform a feasibility study on the car and develop a business case to move it forward from concept form to production readiness; it will also help hone the Stratos's dynamics at its Warwickshire test track.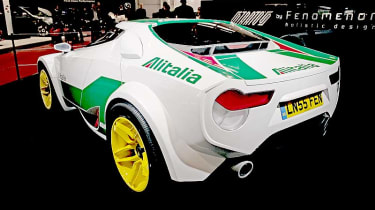 Prodrive's involvement was announced at the Frankfurt show, where the Stratos concept - the creation of long-time Stratos fan and collector Chris Hrabalek - was decked out in evocative Alitalia livery, as worn by the real Stratos rally car in its 1970s heyday.
Fenomenon's concept car was conceived around a mid-mounted 419bhp V8; it will be up to Prodrive to determine whether or not this powerplant is feasible for a production version. The same applies to the car's carbonfibre/aluminium composite construction that keeps weight down to 746kg. Prodrive is expected to spend the next three to four months working on the project.