Nissan GT-R Nismo N-Attack Package: video
A more extreme version of the Nissan GT-R Nismo, known as the N-Attack package, has been spotted testing at the Japanese Fuji Circuit. Details and video here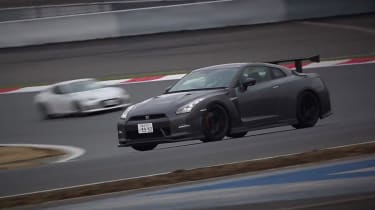 Nissan has released a video, showing the new Nismo GT-R N-Attack during track testing at the Fuji Speedway circuit. The new model upgrade package has been in development alongside the standard Nismo model.
When the Nismo GT-R set its 7:08 Nurburgring lap time last year, the car used was not in fact the standard road-going Nismo GT-R, but a more extreme Time Attack version, now known as the N-Attack, with 'N' standing for Nurburgring. This model has undergone yet more development since it's Ring outing, and is now said to be as fast on smooth circuits as it was on the rough and bumpy Nordschleife.
A full breakdown of the car's technical specification has not been given, but there are significant changes. Aerodynamically, there are many tweaks that are said to improve the downforce of the car on track. The most obvious is the much larger rear spoiler, as well as some leightweight modifcations, such as carbon fibre front wings. Nissan's Chief Vehicle Engineer Noboru Kaneko, also confirmed that the N-Attack comes with Ohlins four-way adjustable dampers.
It's not yet known exactly when the N-Attack package will be made available to customers, or how much Nissan intends to charge, but it is expected to go on sale in Summer 2014. Watch the video, which explains how the tweaks are expected to improve the car, below: