Nissan ZEOD RC to complete all electric lap of Le Mans
Nissan is planning to race the petrol-electric hybrid ZEOD model at this year's Le Mans 24 Hours. Details here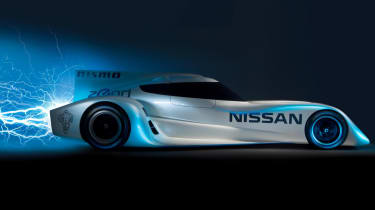 After revealing crash footage and detailed images of its innovative ZEOD RC Le Mans Prototype racing car, Nissan has confirmed that it aims to be the first team ever to complete a full electric lap during next month's Le Mans 24 Hour race.
Aiming to lap faster than the larger engined GT class cars, the ZEOD RC will complete each of its stints with a lap under full electric power, the car's 1.5-litre turbocharged three-pot providing no assistance to drive. Reaching speeds of around 190mph, the ZEOD RC will wiz down the iconic Mulsanne straight in near silence.
This will be the first time a car has completed a lap on electric alone, with other hybrids like Audi's dominant R18 racing cars always sharing power between electric and diesel combustion engines.
Operating out of Garage 56 in an entry place reserved for cars bringing never before seen technology to the track, the ZEOD RC's successful crash test footage has been revealed as part of a wider plan to bring fans closer to the innovative car. Along with an image showing the thousands of bespoke parts that make up the prototype, the footage provides an idea of the many man hours required to develop such a vehicle.
Darren Cox, Nissan's Global Head of Brand, explains that the complexity of the car's design is one reason why nobody else has attempted it. 'It has certainly presented plenty of technical challenges but that is why we undertake projects like this. Motorsport compresses the development cycles dramatically – we're learning new things on a daily basis.'
Whilst the car looks unlike anything we've seen on the roads, the technology developed under its oddly shaped bodywork will no doubt trickle down into Nissan's road cars. The all-electric Leaf is a prime candidate, but most excitingly the next GT-R could be another.
The Nissan ZEOD RC is set to make its track debut on 1 June at the Le Mans test day, with GT Academy winner, Wolfgang Reip, and two-time Le Mans LMP2 winner, Tommy Erdos at the wheel. The legendary Le Mans race takes place for the 91st time on 15-16 June.