Nissan Navara
Nissan's Navara shrugs off whatever we throw at it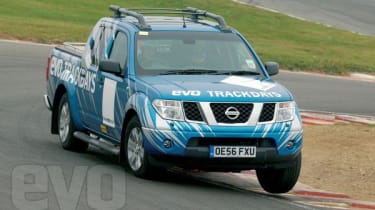 It's been a busy month for our faithful truck. First off, Harry snaffled the keys when his Range Rover consumed its third gearbox, leaving him short of transport for Lady Metcalfe's showjumping pony. I assume he hooked up a horsebox rather than squeezing Sugarlump into the rear seats, but you never know with Hazza. Anyway, apparently horse, rider and truck all performed well, which is clearly more than can be said of the Rangie.
Next the Navara was purloined for the Le Mans weekend by our marketing team, who stationed themselves at the Channel Tunnel and later La Sarthe itself. If you went, you no doubt spotted this motley crew handing out magazines. Apologies if you did – the editorial team are a lot less ugly, I promise.
The feedback from France was again nothing but praise. It's a tough old bird, the Navara, as happy towing as it is cruising down the autoroute at a steady 90mph fully loaded with your favourite magazine.
Running Costs
| | |
| --- | --- |
| Date acquired | December 2006 |
| Total mileage | 9127 |
| Costs this month | £0 |
| Mileage this month | 1610 |
| MPG this month | 26.2mpg |