Nissan Navara
Our Navara's been boringly reliable, which is good...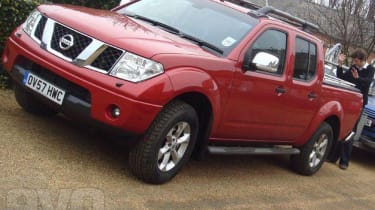 I probably shouldn't say this, but the Navara's dependability is bordering on the boring. Nothing ever seems to faze it, and it hasn't missed a beat in 11,000 miles. (There you go – that's fate well and truly tempted!)
The only mishap has been one of our own creation, namely when Ollie gave the big Nissan a nudge with the Mégane in the office car park. He's managed to avoid doing it again, though, and the repair work will be carried out shortly.
Mind you, it's a good job there haven't been any other reasons to dip into our pockets, as the rises in the price of diesel mean that a tank of the stinky black stuff now costs over 90 quid. In fact a recent trip to Castle Combe with our Westfield racer in tow cost over £150 in fuel once the Westy's juice had been added to the total. That's an expensive day out!
Running Costs
| | |
| --- | --- |
| Date acquired | December 2007 |
| Total mileage | 11,307 |
| Costs this month | £0 |
| Mileage this month | 964 |
| MPG this month | 18.7 |