Nissan Navara
Take a simple Nissan Navara, cover it in dramatic trackday graphics and leave to stand. Result? The world wants to talk to you
Looks good, doesn't it? The new livery is the work of the fevered mind of evo's Welsh design wizard Neil C. Based loosely on Nissan's own Paris-Dakar raider, our Navara certainly turns heads now – I've never spent so much time talking to people at petrol stations, in car parks and even at traffic lights. Everyone, it seems, wants to know about our trackdays or the magazine itself. But then that's the idea…
The rest of the credit for the new look goes to Alan Eveleigh, father of our sub editor Ian. Alan happens to specialise in vehicle graphics (see www.aesigns.co.uk), so he landed the unenviable task of turning Neil's Photoshop renderings into a 3D reality. I can only imagine it must have been a nightmare job, but the result is stunning.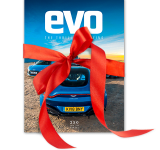 Subscribe to evo magazine
If you're passionate about the world's greatest performance cars, experience the thrill of driving with evo magazine. Try your first 5 issues for £5.
As you've probably noticed, the trackday season is now well underway, so the truck is finally being pressed into the service we had in mind for it – transporting magazines, banners, cones, signs and all the other odds and ends needed to run a successful trackday. And the Navara is proving to be a terrific tool for lugging our kit the length and breadth of the country. As I've said before, it's hardly cutting-edge when it comes to suspension and handling, but it rides well enough and when cruising it's quiet enough to utilise the integrated Bluetooth phone system (essential for the discerning pick-up driver) and enjoy the rather fine stereo. Overall, it's a fun place to be.
Running Costs
| | |
| --- | --- |
| Date acquired | December 2006 |
| Total mileage | 5,684 |
| Costs this month | £380 (graphics) |
| Mileage this month | 927 |
| MPG this month | 25.9mpg |