Nissan Navara
Negotiating floods, fixing fences and saving sheep this month in our long term Navara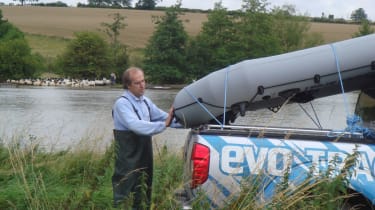 I listen to the early evening news with increasing gloom. It was raining heavily when I left home early this morning, but now that it's time to leave the office the rain is so heavy that some routes are completely flooded. Chaos reigns on all roads that lead to home, and I have a feeling my regular Clio isn't the tool for the job tonight. Roger Green kindly lends me the keys to the truck instead.
The Navara is the sort of device that belongs in a hardware store rather than a glossy showroom. You just know it won't break, ever, yet amongst all the Nissan ironware they've fitted a clever sat-nav, heated seats and air-con. Tonight, though, all I want is an engine air-intake high enough to get through the flash floods as I steer around the dozens of abandoned cars. When I finally get close to home, a marker on a forded road is just poking above the surface, showing a depth of water of around 5ft (instead of the usual 6-10in), well past even the Navara's mighty wading ability. We eventually make it home via an alternative route.
The next day the Navara is christened 'International Rescue' as we secure fences and help a neighbour rescue some sheep swept away in the floods. It was all quite mad but I wouldn't have made it without the Nissan, which naturally didn't miss a beat.
Running Costs
| | |
| --- | --- |
| Date acquired | February 2006 |
| Total mileage | 13,256 |
| Mileage this month | 1102 |