Nissan Navara
A change of custodian and the Navara goes off road with Henry Catchpole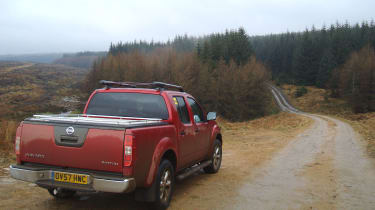 As its usual custodian, Roger Green, observed rather pointedly, the Navara was absolutely filthy when I returned it to him the other day. This wasn't entirely surprising. The big Nissan had spent the weekend acting as recce vehicle for my Pirelli International Rally appearance (issue 119), and as the rally takes place in Kielder Forest, filth was something of an inevitability.
The big leather driver's seat was trucking great on the motorway up to Cumbria, and the cruise control worked splendidly. You have to shout a bit to make yourself heard via the Bluetooth hands-free system, but on the upside there are enough 12v plugs to charge most of the Carphone Warehouse.
Once in the forest, the Navara had to squeeze down some absurdly narrow tracks, grapple its way over rocks the size of Sandi Toksvig and bounce through craters big enough for a hobbit to swim in. The fact that we had to do all this at less than 30mph (to keep the Forestry Commission smiling – they had people checking on us with speed guns!) only accentuated the obstacles.
The lofty driving position gave a wonderful view of the stunning Kielder landscape. The vast areas of wilderness, riddled with felled trees, had an almost apocalyptic feeling. Unfortunately the improved visibility also afforded a perfect view of the trees that I might hit (both the upright, living ones, and those in cuddly pile-of-logs form) if I didn't concentrate on the pace notes that my co-driver would read out to me.
Running Costs
| | |
| --- | --- |
| Date acquired | December 2007 |
| Total mileage | 9189 |
| Costs this month | £0 |
| Mileage this month | 947 |
| MPG this month | 25.1 |