Nissan Navara
Our Navara continues to impress and is a refreshing alternative to prim and proper SUVs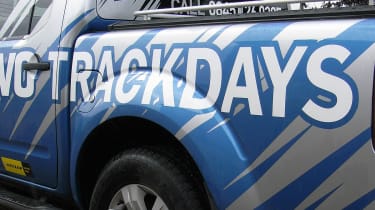 Despite bombing around the country in a Navara myself, it still surprises me just how many pick-up trucks you see these days. After all, it wasn't long ago that these rugged machines were the sole preserve of those unsavoury individuals who aggressively suggested you needed your drive re-tarmacked with the leftovers from some new bypass. But now they're everywhere. I felt the need to find out why.
Most of the owners I've spoken to reckon they're more practical than the SUVs they owned before (you can chuck stuff in the back without worrying about dirtying carpets or damaging leather), and now that they can be bought loaded with the usual toys they offer a better all-round solution. Furthermore, with green campaigners constantly attacking 4x4 owners, many feel they get less grief driving around in something that comes across as utilitarian rather than overtly opulent.
What does it all mean? Well, I reckon sales will continue to grow, as will the aftermarket options available. Our 'Aventura'-grade model comes stacked with goodies, but there are still more things you can spend your money on. Recently highlighted on the evo forum, for example, was a £500 Torteq chip that increases power from 174bhp to a very useful 209. We were sorely tempted, but unfortunately Nissan's press office informed us that, despite it being possible to get the upgrade from Nissan dealers, it invalidates the warranty.
Of course, there's also a host of cosmetic kit and all sorts of load-bed covers and liners, but what we really need are some suspension upgrades to reduce roll when barrelling into Paddock Hill bend on the next evo Trackday…
Running Costs
| | |
| --- | --- |
| Date acquired | February 2007 |
| Total mileage | 15,214 |
| Costs this month | £0 |
| Mileage this month | 1958 |
| MPG this month | 26.5 |