The road to Le Mans
Plus, We Are Racers Ep 2 Video
Before you get going
Book tickets and accommodation through www.24h-lemans.com, and do it now – the clock's ticking! Check out the various types of ticket carefully: some grandstands and areas of the circuit require certain grades of pass and they're checked rigorously.
You'll need to decide how many days you're going to be there first of all. We'd aim to arrive on the Thursday afternoon to catch the last few hours of final qualifying, plus you'll be in place for all the non-track fun and games that take place on 'Mad Friday' (about which, more later). As for heading back to Blighty, leave it until the Monday. For starters, there'll be 100,000 other cars trying to leave the circuit on the Sunday afternoon, and secondly you're going to be mighty tired. Relaxing on Sunday evening and discussing the race with your mates over a few last beers is a far more civilised way of doing things.
Before heading into France, make sure you've equipped your car with all the safety items demanded by the French authorities: not having them could make matters doubly difficult if, for instance, you were to be stopped for speeding…
You'll need:
Your original registration document and car insurance certificate.
GB sticker, or moniker on your number plate.
Headlamp adjustment.
Warning triangle.
Reflective jacket/vest.
Self-use breathalyser – at least two single-use items. And maybe a third to check you're OK when you leave the circuit after a weekend's partying.
It's also worth knowing that radar detectors are banned in France and can be confiscated even if they're unplugged and in the boot. And if your satnav displays the location of fixed cameras, this function should ideally be disabled.
How to get there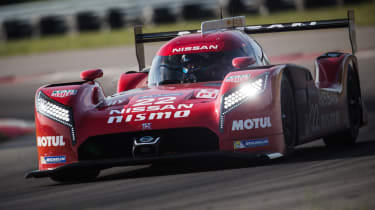 Some people use the ferries (Portsmouth to St Malo knocks miles off the road journey), many more the Eurotunnel. This year the latter boasts the extra advantage of Michelin hosting a free tyre pressure check just before you board the tunnel to cross to France: it's a long way to Le Mans, but with Michelin's vast experience of the 24-hour race, you can be sure they'll know how best to look after your road car's rubber. And let's face it, how many of us actually check our car's handbook to see what the pressures should be when we've got a heavy load – mates, food, drink, camping kit – aboard? So take advantage of the Michelin men and get it sorted.
You might want to think about your car's fluid levels, too – oil, brake fluid, washers, etc. And even if your car is pretty new, some European breakdown cover is a sensible idea.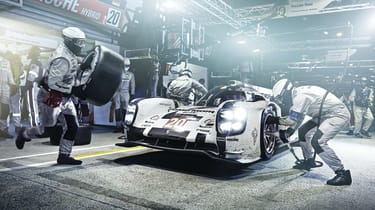 Quickest way down to Le Mans from the Eurotunnel is via the autoroute network – it'll cost you but it's easy motoring. Satnav the route, but essentially you're heading to Abbeville and Amiens, then Rouen, then towards Le Mans with the signs also pointing you in the direction of Bordeaux: it's about 400km and if there are no delays you could make it in four hours. However, you have to get off the autoroute at Rouen and currently long-term roadworks mean that even with satnav chances are you'll take a wrong road…
But as evo reader Dion Price is at pains to point out: 'Don't rush. The journey is to be savoured. Chatting to like-minded petrol-heads on the Channel crossing, stopping off at a little French village for lunch (Gacé is great) and getting off the motorway to hit some back roads is an essential part of the Le Mans experience.'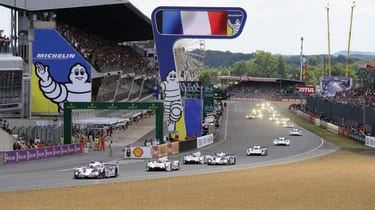 You could travel on back roads all the way from the French coast, but we'd recommend getting as far as Rouen on the autoroutes, then head briefly towards Caen, before picking up the D338 (N138 that was), for an entertaining and leisurely route to Le Mans. You can view route suggestions and directions at www.viamichelin.com: the site also gives a rough guide to likely fuel costs and what the tolls add up to.
But stick to the speed limits: the French police are especially active during the week of the 24-hour race. Fines are on-the-spot and in extreme cases the police will confiscate your car.
And don't forget to stop off at a supermarché on the way – you'll want plenty of food and drink for your stay, and French supermarkets have a great selection of top quality sustenance.