Michelin races, you win
Plus, We Are Racers Ep 3 Video
Michelin supplies race tyres to all four of the contenders in the LMP 1 class, so barring an unprecedented calamity, the company's logo will be sitting proudly on the bodywork of the 2015 Le Mans 24-hour's overall victor. That in itself, you might think, is reason enough for Michelin to go racing.
Yet while motorsport is undoubtedly a satisfying and fun challenge for those involved, Michelin has a deeper motivation for participation in this iconic French endurance race – the desire to produce better road tyres for your car. After all, it's essential to test new tyre technologies in extreme conditions, and conditions don't come more extreme than they do at Le Mans.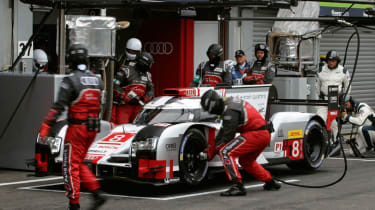 The imposing challenges of the 24-hour race – maintaining consistent tyre performance during hours of extreme straight line and lateral speeds, whilst also providing good tyre life – help create technical advances that can be transferred from the track to the company's high performance road tyres.
And lessons learnt on the track at Le Mans are genuinely pertinent to street tyre development. Take the delicate balance between ultimate grip and a tyre's longevity, for instance. We all want our high performance road and trackday tyres to put up hearty resistance to lateral loads, yet we also want them to last for more than a few hundred miles. Michelin's race engineers are after much the same thing at Le Mans, but for slightly different reasons.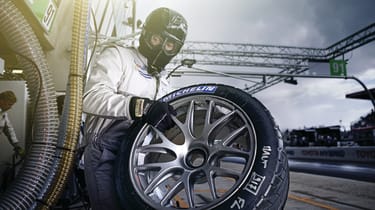 Pascal Couasnon, Director, Michelin Motorsport, provides a race team's perspective: 'Tyre life is critical. A tyre change is about 20 seconds, so here we have to try to come up with a tyre that's very quick, very consistent, and which can cover the most kilometres possible. That's the perfect combination.'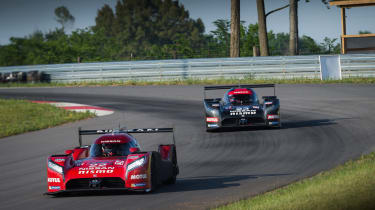 Consultant to Michelin, Pierre van Vliet, concurs. 'There's only one airgun to change all four wheels after a fill-up or possible mechanical intervention. As a result the pit stops may be longer. So it's crucial to preserve the life of the tyre over several stints. At Le Mans everybody knows you can win the race in the pits, but you can lose it there, too…'
A prime example of a road tyre benefiting from racing is the Michelin Pilot Sport Cup 2, fitted as standard to the Porsche 911 GT3 and 918 Spyder, Ferrari 458 Speciale and Mercedes SLS AMG Black Series. Not only does the Pilot Sport Cup 2 provide extraordinary grip, the consistency of its performance and its all-round stability for mile after manic mile, adds an extra degree of finesse to some already fine-handling supercars.