Corvette Racing wins the 'big three' with Michelin
Michelin-shod Corvette C7 wins at Le Mans, the 24 Hours of Daytona 12 Hours of Sebring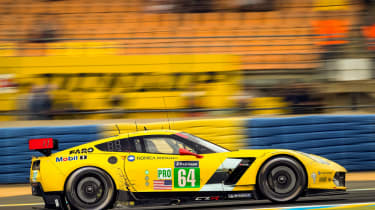 Corvette Racing's win at the Le Mans 24 Hours means it has won the three most illustrious sports car races of the year. The American squad also finished first in class at the 24 Hours of Daytona and 12 Hours of Sebring, beating the likes of Porsche, Ferrari and Aston Martin to give it a hat-trick of wins in 2015. 
Michelin is Corvette Racing's exclusive tyre supplier, meaning it worked incredibly closely with the team at each of these events to ensure the Corvette C7 race car was able to maximise its rubber. In the challenging Le Mans race, the single Corvette Racing car was able to complete 337 consistent and reliable laps to take the LMGTE Pro class win, finishing with a five-lap advantage over the second placed LMGTE Pro Ferrari 458 Italia.
Michelin was also the sole tyre supplier to all of the race's LMP1 cars, providing the race's winning Porsche 919 Hybrid with the grip to not only quality pole and win the race, but also break the previous circuit lap record. Neel Jani's qualifying time of 3min 16.887ecs (averaging 154.7mph) smashed the previous record of 3min 18.513sec, which was posted in 2008 by Stéphane Sarrazin in a Peugeot 908 HDI.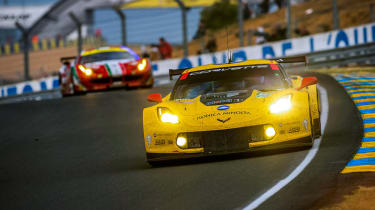 This impressive time was set despite the fact that the 2015 slicks are actually more than 50mm narrower than those used in 2008, thanks to changes to tyre regulations. But such is the pace of tyre and aerodynamic evolution that LMP1 performance has continued to improve rapidly.
Jérôme Mondain, manager of Michelin Motorsport's FIA WEC programme, said this of Le Mans: 'Our endurance racing tyres successfully covered distances in excess of 700km. The ability of Michelin's tyres to multi-stint, which used to be an exception not so many years ago, has today become an integral part of our partner teams' strategies. All the LMP1 manufacturer teams used a single type of tyre for the 2015 Le Mans 24 Hours: namely the Michelin 'soft hot weather' slick, which is designed to give its best at temperatures ranging from 18°C to 40°C.'
Many argue that Le Mans is actually a more technically interesting sport than Formula 1, thanks to entries like the Nissan GT-R LM Nismo LMP1 racer. The car sends power to its front wheels via a front-mounted engine, but despite its vastly different drivetrain layout, Michelin was able to supply it with tyres for Le Mans.