"The Portuguese are good at overtaking, people in Britain see it as lethal and objectionable"
Porter ponders on the miserable - not to mention dangerous - inclinations of many people we share our roads with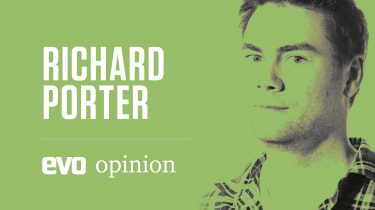 If you've ever wondered where the world's stocks of leathery northern women and retired cab drivers are kept, I can tell you. It's on the Algarve. I know this because I've just come back from this bottom bit of Portugal after seeking out some late summer sunshine to offset a British summer even the Met Office might describe as 'disappointing'. 
When we fetched up at Faro airport, the hire-car lottery gave us a Mégane estate, one which claimed to be in 'GT Line' trim and had Renaultsport written on the speedo. Oh dear, I thought, but actually it wasn't bad, especially for a model at the end of its life and, in this case, with nine kilos of sand inserted into every single interior crevice. In the way it drove, you could detect just a whiff of the talents that make proper RenSpo cars such delights. At least I think so. I was on holiday. I had my wife and my baby son in the car. This wasn't the time to start door-handling it on the way to the beach. 
Bear this in mind when I tell you what happened on about the fourth or fifth day we were there. We were trundling to the seaside – I'm loathe to say 'pottering' because it sounds like I was wearing slippers, but frankly that's about the speed – when I looked in the mirror and spotted another car approaching at a reasonable lick. It was a Smart, and quite an early one, from when the semi-auto gearchange gaps could be measured in minutes. Even so, this particular example wasn't hanging about, whereas we, being relaxed and on holiday, were. I looked in the mirror again to see the Smart was really close now, and then something extraordinary happened. The person at the wheel flicked on the left indicator and pulled out onto the other side of the carriageway. The road was straight, there was no other traffic and, taking advantage of this, they used their momentum to cruise quickly and cleanly past me and onwards to the things in their day that were more pressing than those in mine. They were in a hurry, I was not, everyone was happy. No harm, no foul. 
Compare this with an experience I had in the UK a couple of weeks before. I was driving an MG6, which is a great chassis in search of a better car, and moving briskly down an A-road on a clear and sunny morning. Up ahead was a Focus doing less than the speed limit and very much in the pottering spectrum. I slowed down a good distance behind it, waited until the road straightened out, checked to make sure it was clear, then indicated, banged the MG down a gear, pulled out, and accelerated past. The Focus driver did not like this at all and his first reaction was one of such unhelpful bellendery that I wanted to slap him around the head with one of his slippers: he sped up. I kept my toe in and got past him, cleared a few car lengths then pulled onto the correct side of the road, at which point Mr Focus moved to phase two of his disgruntlement plan, which was to flash his high beams. 
Take a moment to reflect on this duopoly of miserable reactions. First of all, the bitter, mean-spirited attitude that says, 'You think you're coming past, son? Not on my watch. I'm going to speed up and leave you stuck on the wrong side of the road for longer than is necessary.' And then the slow strobing of the headlights, which is the mealy mouthed, bungalow in the 'burbs equivalent of wagging your finger and saying 'tsk'. It says, 'I think what you're doing is dangerous. Even though I just attempted to make it slightly more dangerous.' 
I mention this not because it was exceptional, but because it was depressingly close to the norm for any overtaking move attempted in Britain. Contrast this to the clean, confident way the Smart driver scythed past me in Portugal, which spoke of someone not only in a hurry but also fully expecting no reaction from the person they were passing because they were making a normal and reasonable move in total safety. Or, to put it another way, the Portuguese are good at overtaking and accept it as part of driving life, whereas most people in Britain see it as lethal and objectionable. 
All across continental Europe overtaking is seen as practical and acceptable, while in Britain the hoards of dribbling, Daily Mail-reading halfwits in their miserymatic diesels regard it a reckless affront as offensive to their tiny, shrivelled minds as bad-mouthing Princess Diana or burning a National Trust tea towel.
I know these people despise progress in all its forms, but when did that attitude become so literal as to resent another driver for wishing to travel on an open, clear road at the national speed limit, rather than 17mph below it (regular and unexpected jabs at the brake pedal permitting)?
It's depressing to see how much Great Britain, once a nation known for its progressive drive and its love of speed, now openly tuts at anyone on the road who shows either, and frankly I've had enough. At this rate, I'll have to move to Portugal. Just as soon as I've become a leathery northern woman. 
Richard Porter is the pen behind sniffpetrol.com and evo's longest serving columnist.