'Ordinarily I would have looked for an opportunity to pass and continued on my way, but this was different'
The unexpected restorative powers of a chance encounter with a skilled driver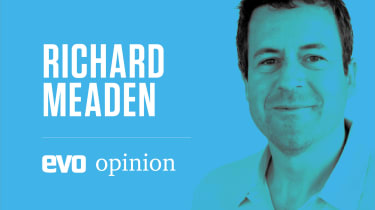 I think we can all agree that 2020 was an absolute stinker. Fatigued by the relentlessness and hopelessness of Covid, ground down by the futility of planning anything more than a few weeks ahead and deflated by the paucity of good things to get out and do, I don't mind admitting I'd begun to wonder if we'll ever return to enjoying anything resembling carefree fun.
Much I suspect like you, my go-to tonic for any kind of mental malaise is driving cars. But recently even this was failing to deliverer a reliable boost. As regular readers of this column might have detected, I've become increasingly guilty of talking myself into a downer. Cars had become too fast, I wrote. Too many supercars, I wrote. Can't enjoy fast cars on the road anymore, I wrote. Bah and indeed humbug.
Then came October. Traditionally eCoty time, the month began with the rag-tag band of brothers that is the evo team engaged in the biggest test of the year. Perversely, while 2020 had been an absolute git, it has also been a belter for new fast cars of all shapes, sizes and prices. In this regard even I've had to concede we've got things pretty good.
2020's eCoty was a two-parter that started in north Wales with no fewer than 16 cars and finished with an eight-car shoot-out on some of the best roads in Scotland. I've been doing this for a long time, but can't remember a better couple of weeks or a finer group of cars.
I'm not sharing this because I wish to regale you with smug tales of how driving many (many) hundreds of thousands of pounds' worth of sports and supercars on amazing roads miraculously restored my mojo. Though, shockingly, I have to say it did do a pretty good job of perking me up. No, the reason I'm taking you through the last few weeks of my working life is that it was another entirely unexpected moment – again on eCoty – that somehow put things into context.
I was heading north from home towards our first overnight stop in Hawick in the Scottish Borders. Three or so hours into the four-plus hour trip, I was travelling solo in something exotic and Italian, slicing across country having left the main motorways behind. It was raining and the light was fading and thoughts of a warm fire and a cold pint were beginning to enter my mind.
I'd pretty much had the road to myself, but up ahead in the distant gloom I could see a pair of tail lights burning in the murk. It was one of those instinctive moments when a quick calculation of our relative speeds suggested whoever was up ahead was – how can I put this? – making the most of the opportunity.
Squeezing a little more speed from my car, I steadily closed in. I can normally identify tail lights from a good distance, but the spray and the fading light made it impossible. Part of me wondered if it was someone else heading up to eCoty (the brisk but measured pace certainly suggested this to be the case), but as I got closer, to my surprise and amusement, I realised it was a small van.
Ordinarily I would have looked for a safe opportunity to pass and continued on my way, but this was different. I reckoned the driver was a local, probably on their way home, on a fabulous road they know like the back of their hand. There was nothing risky about their driving, but they were going quickly, carving perfect lines between the sweeping curves, and intelligently losing speed with smooth lifts of the throttle rather than clumsy stabs at the brakes. I knew I was in the presence of a quality driver when villages were driven through at less than the posted limit. It was masterful, considerate, risk-free stuff.
We continued like this for a good 20 miles or so. Me following at a respectful distance, but close enough to make it clear I was tagging along in their wake, enjoying a drive that was evidently a journey this van driver did every day. When eventually they slowed and signalled to turn off I was sad our good-natured chase had come to an end.
Did they even know they'd inadvertently been part of a shared petrolhead moment? I wondered this myself, until a brief but deliberate click of the hazard lights served as acknowledgement that they'd known all along, and thoroughly enjoyed it. What I'm certain they didn't realise is that they'd set the tone for what would turn out to be an epic eCoty. Nor that they had provided a perfect and much-needed reminder that the best drives often come at the most unexpected moments. Whoever you were, thank you.