'I always feel a fizz excitement at putting a car key in my pocket, walking outside and driving away'
Meaden might think he'd fallen out of love with cars, but for one thing…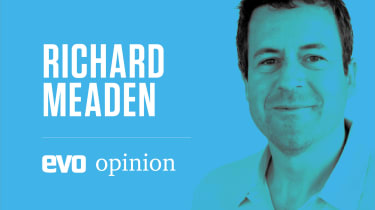 I've come to the conclusion I'm not actually a very good car enthusiast. I'm not mechanically minded, so I've never worked on my own cars. I don't like car clubs because they strike me as high-octane offshoots of the Handforth Parish Council. I rarely drive for the hell of it on my own time because I get paid to do that during the week, and I don't do trackdays because I get to do that too. Besides which, 20-plus years of racing has rather ruined me for simply driving round in circles.
I used to love washing my cars, but ten years living down a godforsaken dirt track in the fens meant car cleaning became the definition of futility. I've since escaped to a place where the roads are mettled and the locals don't wear camo, so there's a faint glimmer of hope I'll invest in a pressure washer and a tub of snow foam. But when £6 gets you a clean car it's hard not to conclude life's too short for the two-bucket method.
I don't go to watch race meetings because all those years as a competitor mean I start to itch if I'm not there to feel sick with nerves and buzz my nuts off with adrenaline. I'm pretty certain I'd still plan my weekends around watching live F1 coverage if it was on Freeview, but I don't want Rupert Murdoch bleeding my bank account dry. Then again I rarely have time to watch the excellent live BTCC coverage on ITV4 because (whisper it) I'd rather spend my Sundays gardening. Yes, gardening. Though I'll admit Meaden-spec horticulture is less about nurturing my hardy perennials and more about dangerous two-stroke machinery, ill-advised bonfires and a few scoops of beer. 
> 'How do you qualify to own a McLaren 765LT? Just be rich. Zero talent required. Zero training'
One of my greatest pleasures growing up was reading car magazines. That's why I ended up being a motoring journalist. Trouble is, when you've driven most of the new metal and have your own opinion on it there's little enjoyment to be gained from reading what you already know, or worse, what you know to be utter cobblers. Though I'll concede the latter does make for some amusing WhatsApp bitching sessions with Harris and Bovingdon.   
The internet doesn't help. Yes, YouTube contains an inexhaustible cache of car-related content through which to trawl, but the vast majority of it is derivative shite or vapid tosh. Thankfully there are exceptions. If a year ago you'd asked me whether I'd sit through half an hour of someone exhuming an Allegro Super Sport from a derelict garage I'd have laughed in your face, yet Jonny Smith's The Late Brake Show is now a go-to sanctuary for madly random, yet superbly considered films about cars and the people who love them. Alternatively if you like wild build projects by reassuringly down-to-earth blokes, Driftworks is your jam. 
Content like this is the antidote to Instagram, where almost everyone seems to have millions to hose at hypercars they're not actually that bothered about, so it's easy to feel alienated. A few collectors manage to hit the right tone, but most are utterly crass. 
Sometimes I wonder if I've actually fallen out of love with cars. Then again, perhaps I've just gorged myself on cars for so many years I need to check into a Priory-style rehab clinic and dry myself out. Fortunately despite all of the above, the one thing I still adore about cars is driving them.
Sure it's certainly harder – actually, it's impossible – to drive them in the carefree way I used to. There's too much traffic, too many speed enforcement measures and too many dashcam vigilantes (who almost always drive at 40mph in a 60, then continue at 40 through a 30) to enjoy performance cars as we did in the nineties and noughties. Those really were the days. But no matter what the car or where I'm driving it, I always feel a small fizz of excitement at putting a car key in my pocket, walking outside and driving away. It's not quite the rush you get upon owning your first car and realising you can go anywhere you want, but it's still a strong and clear echo of that life-changing moment.
Since then I've applied myself to driving like nothing else. I'm not sure why, but it's always felt like some kind of calling. For a while 'better' meant faster, but over the years I've calmed down considerably. Skill and experience bring better judgement and a quiet confidence, so now rather than machine-gunning my way down the road I'm happy to rifle shoot those moments when I can cut loose. It feels good.  
As car enthusiasts we've never had more ways to indulge our interest, though sadly, much like TV, it can feel like there's a hundred channels and nothing to watch. Thankfully driving remains my default. When I stop feeling that inner smile at sitting behind the wheel, searching for ways to better understand the car I'm in, or yes, fail to make the most of a deserted roundabout, I'll know my love is lost. Until then I'm going to do my best to enjoy every single mile.