'Now is not the time to panic. Not for me, anyway. I'm comfortable with fuel-light Russian roulette'
Porter's thought of a new, low-cost way to get everyone driving more efficiently. The catch? It could be incredibly irritating…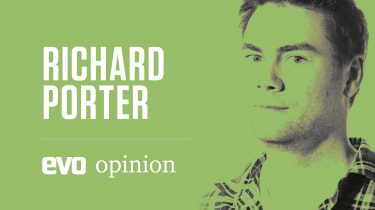 It's late evening, Christmas Day. The M40 is quiet. In the dense black of a winter's night distant lights mark out towns and villages, each full of waning family bonhomie and bilious turkey bellies. Inside our car, however, all is well. My baby son is asleep in the back while my wife dozes in the passenger seat. Then something very bad happens: the fuel light comes on.
This is unwelcome. It's been a lovely day but now it's cold, it's dark, and I want to get home. What I don't want to do is stand for five minutes sluicing juice into the tank, getting all shivery and miserable, and waking up the baby in the process. But hang on here. We're in our Merc CLS Shooting Brake family wagon. It runs on diesel, it has a long-geared gait and it's as slippery as a fish's underbits. With care, this can be an economical car. Now is not the time to panic. Not for me, anyway. I'm comfortable with fuel-light Russian roulette. Mrs Porter, on the other hand, gets panicky in a car with less than a quarter of a tank. Any suggestion of pushing on to London with the amber warning glowing will not go down well. So my challenge is to ease down the cruising speed one notch, maintain fuel reserves, and do it without her noticing. To get a better idea of what's required to make it to London, I scroll through the instrument display to the screen that shows range. It says 55 miles. We pass a sign that gives the distances to various places. One of them is London. Which is 75 miles away. Bugger.
Another millimetric lift off, another tiny decrease in speed. Sniff out any downhill and let the car coast. Resist the temptation to clog it up hills, just let the speed bleed away if it must. A strict policy of driving softly and treading gently on the throttle pedal. Imagine there's a fragile egg under it. Or a kitten. Within moments the range-o-meter reports more-optimistic news. It's actually going up… 60… 65 miles. Pretty soon the car's estimated stride will match the actual distance to home and the fuel needle remains at least its own width off the stop. This will be easy.
> Click here for more of Richard Porter's opinion pieces
But it isn't. As quickly as it gave hope, the range readout dashes my dreams of reaching home without pitting by plunging hopelessly to a forecast of 45 miles. And we've just passed another sign that tells me the city is still 60 miles from here. From initial caution I got sloppy, became too relaxed, started to believe this was going to work. Concentrate man, concentrate.
Normally, the CLS is a fantastic long-distance car with an easy-going bearing that lets you drive it sprawled in a soft-limbed slouch. Not now. Not with our destination still some 15 miles further than the range register's latest estimate. Ease it back. Slowly the computer starts to suggest that, in theory, this is possible. And still my wife hasn't noticed my plan to roll into our street on vapours.
Trouble is, the M40 drops into London from the Chiltern Hills. And getting over those isn't conducive to economical driving. As the rising land looms through the unlit gloom, the car decides to revise its range estimate in the most horrible way possible. Thirty-five miles is all we've got. No, maybe 30. And then it says, you know what, sod this. I can't do the sums any more. You're an idiot, you should fill up, and to remind you of that I'm not giving any more mileage estimates. Here, have a tiny graphic of a car being filled up, and take the sodding hint. Why do car trip computers do this? Why do they bin the range readout at precisely the moment you need it most? Without a digital extrapolation of the distance until the Merc's V6 starts to splutter I feel ill equipped, staring at the fuel gauge itself to see if it's moving. Maybe it isn't. Maybe I can do this. Maybe if I speed up a bit I can outrun the spectre of my own diesel demise. Yeah, that'll do it. I'll get home faster than the engine can burn through juice. It's simple.
Except it's not. That doesn't make any sense. You can't accelerate your way to greater economy. Otherwise the Bugatti Veyron would wear a BlueMotion badge. The tension of trying to wring the tank dry and the impetus of my filling-up phobia has driven me mad. What was I thinking? Enough's enough. It's one thing to run out of fuel on your own. To do it with a nine-month-old on board on a cold winter night is just stupid. And it would spoil Christmas. At Beaconsfield, that weird services that's slightly too far from the motorway, I pull in for a refill. And as I shiver through a splash 'n' dash I realise something: even with oil prices down, fuel consumption is an ongoing topic and one tackled by carmakers in a variety of ways. But if you want to make people drive more economically at almost no R&D cost, simply fit all cars with much, much smaller fuel tanks.
I really think this would work. And yet I hope to God they don't pursue the idea because, as I think you might gather, I really hate stopping to fill up.
Richard is evo's longest-serving columnist and is also the keyboard behind sniffpetrol.com