'Ford's new Expedition SUV is the epitome of American motoring – with a surprise or two up its sleeve'
You'd assume the Expedition is part of that US tradition of gumming modern gadgets to 50-year-old iron work. Except it isn't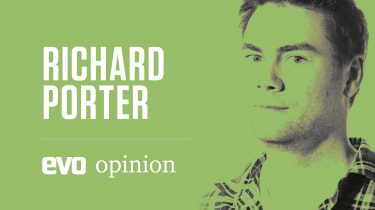 You probably think the current Range Rover is a big car. But maybe that's because you haven't seen the Ford Expedition. The Expedition, so-named because that's what you have to undertake to walk around it, is Ford's SUV flagship in North America and not sold in Europe, perhaps because any attempt to drive more than one onto a cargo ship might cause it to sink. It really is very, very big. You know the long-wheelbase Range Rover, a car that in Euro terms always skirts the fringes of unparkable? Well this is five inches longer. There's also a stretched Expedition Max, and I don't know how big that is because the person with the tape measure is still on their way towards the back.
I've been spending some time with the Expedition because I went to the US and wanted to drive something really American. Which means, to quote The Simpsons, a truck that 'smells like a steak and seats 35'. Although in top-of-the-rack, $73k Platinum spec the Expedition actually seats just eight people, each of them given enough space to enter a cat-whirling contest without troubling the Volvo 245-shaming boot space behind row three. It then wraps all this room in a handsomely high-sided body with a grille so chromey you can't look at it in sunlight. The Expedition isn't just an American car; it's a window into the American soul.
> Ford Ranger Raptor review - a different, but definite thrill of driving
The good people of the US, no matter how wealthy, prize two things above all others: value and convenience. We scoff at them for their massive food portions, but that's just good value. We sneer at the US obsession with making everything 'drive-thru', but that's just convenience. Americans live to have their lives made easier, and from the moment you grab the door handle of the Expedition and a hidden side step smoothly purrs down to make it easier to get in, you know you're in a land of convenience designed very specifically for the land of convenience.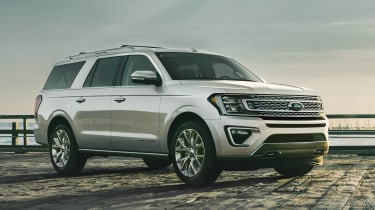 Up-spec American cars have long been like this. It was US auto makers that led the way on power steering, electric windows, auto headlights and a whole host of items that Chrysler, Packard or Cadillac could bill as 'labor saving' while Europe was still wowed by the heated rear window. Yet at the same time, Detroit was wedded to body-on-frame construction long after the rest of the world had gone monocoque. This was the traditional American way: play up superficial convenience items to make new models seem sophisticated and easy to live with, but don't bust your bottom line developing new hardware the customer can't see.
Mindful of this tradition you will notice that the Expedition has adjustable pedals, massage seats, CarPlay and a gesture-controlled electric tailgate. It's also available with a system that auto-steers when you're trying to reverse a trailer, which might seem excessive in Britain but makes perfect sense in the US where everyone seems obsessed with owning a speedboat, like an entire nation of Bullseye contestants. I'm told it's a very neat and tricksy piece of tech, but let's not forget it's affixed to a 2019 model-year car that still sits on a separate chassis. As such, you'd assume that the Ford Expedition is part of that American automobile tradition of gumming modern gadgets to 50-year-old iron work.
Except that, actually, it isn't. There are three surprises about the Expedition and the first is that, while the ladder chassis comes from the F-150 pickup, in common with that truck the Expedition's body is aluminium, saving a chunk of weight over the previous model. The second surprise is that it doesn't run a V8. Instead there's a 400 horsepower, 3.5-litre twin-turbo V6 related to the one in the Ford GT which has a higher output and a smaller hunger than the old eight. This might sound un-American, verging on treasonous if you're a vocal supporter of the president, but don't forget better economy gives better value and having to fill up less frequently is more convenient. Like slipping medicine into the dog's food, Ford has snuck increased efficiency and performance into the mix while making the Expedition even bigger on the outside, lest it be accused of goddamn socialism.
The third surprise is that the Expedition is not a leaden, lumpen dinosaur. You're not going to wonder if the chassis tuning was by Renault Sport, but it's comfortable, it's quiet and it's weirdly quick, especially when you remember that things of this size in Europe usually have a pulpit. This is one of those cars that's been designed very precisely for one target market by people who understand their customers and, as a consequence, it's really good at its job. Obviously, in the UK an Expedition would be a constant stress until one day you accidentally reversed over Shrewsbury, but in the country of its birth it blends in perfectly as one of those cars that's absolutely fit for purpose. Yes, it's vast and slightly preposterous, but it's also hugely likeable and eager to please. It's the very spirit of America in a car.