Pagani Zonda C12 S
Our Zonda's shipped off first class for a celebratory Zonda bash in Italy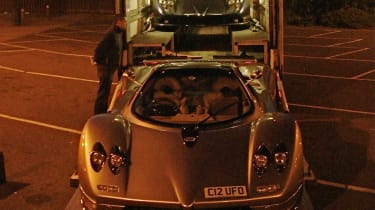 It's desperately hard not to find excuses to drive the Zonda when it's just sitting outside the house. As the mileage covered over the last couple of months or so probably shows, it's enjoyed plenty of exercise recently. It all kicked off with the Supercar Tour to Silverstone at the start of May, then there have been trips to the office, plus a few excursions just for the hell of it.
But the best is yet to come. A few nights ago, in the less than glitzy location of a motorway service station, I met up with a fellow Zonda owner to pack our cars into a third Zonda owner's transporter, the next stop for which would be the Pagani factory two days later.
It was quite a sight, as the truck already had a Zonda F Spyder and a Ferrari Enzo inside. Our two cars were going upper class, but watching them slowly inch their way up to the top deck on the flimsy-looking tail-lift was not good for the nerves!
The reason the cars were being shipped off to the factory was so that they'd be there ready for the Fifth International Pagani Gathering, the company's annual bash for Zonda owners and their cars. The venue for 2009 is the deserted roads of the Val d'Orcia region of central Italy – and that makes this year's event simply unmissable. More next month.
Running Costs
| | |
| --- | --- |
| Date acquired | June 2006 |
| Total mileage | 34,120 |
| Costs this month | £0 |
| Mileage this month | 1390 |
| MPG this month | 16.8 |