Pagani Zonda S
Harry drives his C12S to the North York Moors to meet the issue 100 cover cars. Only one of the two Zondas present went home with a working clutch, though…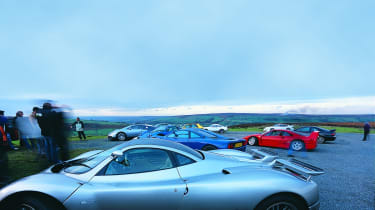 Old habits die hard, and after a quiet 200-mile cruise up to Yorkshire for our 100th issue cover story, I couldn't resist working out the fuel consumption after I'd topped up the Zonda's tank.
What do you reckon? A full 7.3 litres of green-hating, carbon-unfriendly V12 engine with enough potential to warm our planet single-handed, and a body with no shortage of drag-inducing spoilers and splitters – it's hardly the best recipe for success in the mpg stakes. But with sixth gear offering nearly 40mph per 1000rpm and the journey up having been largely in heavy but flowing traffic, the rev-counter needle rarely broke through the 2000rpm barrier, resulting in a Zonda personal best of 21.3mpg.
Less pleasing was the way the clutch started to disappear over the next two days in Yorkshire. First its bite-point started to get lower, then, just as we were all saying our goodbyes, it gave up the ghost completely. Great. With a 200-mile drive ahead and no clutch, this was going to take some planning. I managed to devise a route home with no traffic lights and only a minimal chance of having to stop on the way; the only trouble was that I would need to stop for fuel at some point. Rats…
Luck was clearly on my side, though, because as I pulled up to refuel, some evo readers came over to take a closer look at the Zonda. It didn't take much asking before I was being pushed off the forecourt, allowing me to spin the starter in gear and make a successful getaway. Ah, the glamorous life of a supercar owner!
The fix turned out to be easy: simply bleeding the hydraulic clutch-line sorted it. Then again, it shouldn't have happened in the first place.
Running Costs
| | |
| --- | --- |
| Date acquired | July 2006 |
| Total mileage | 25,261 |
| Costs this month | £0 |
| Mileage this month | 953 |
| MPG this month | 19.1mpg |