Pagani Zonda: Zonda R is go!
750bhp track car set for production; 'C9' introduction delayed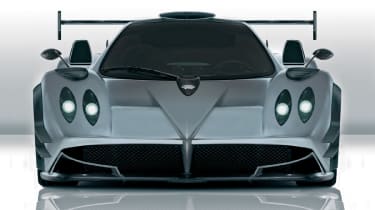 With six deposits received already and a further four awaiting final confirmation, Pagani has confirmed that its wild, track-only Zonda R will go into production. Just ten examples of this 1.2million euro, 750bhp FXX-rival will be built, with delivery of the first car scheduled for March 2008.
This latest announcement is an indication of the dramatic rise in interest that Pagani is enjoying at the moment. Company founder Horacio Pagani recently claimed that if he were to build 100 Zonda F coupes (rather than limiting the run to just 25) he could sell them all.
This pent-up demand is now reflected in the values of existing cars, according to Horacio, with good used examples of the C12 and C12S now fetching around 400,000 euros (a C12 was 250,000 euros new) and coupe Fs changing hands for 150,000-200,000 euros above list.
The biggest problem for Pagani has always been its inability to meet the demand for its cars, mainly because the current factory simply doesn't have the capacity to build them fast enough. But help is just around the corner, as Pagani has recently managed to secure a new complex within a kilometre of its existing unit.
Three times bigger than the current facility, this will enable production to increase dramatically, from the current 16 cars a year to around 60 once the Zonda's replacement, known internally as the C9, comes on stream. However, the introduction of that car has been put back a year, to 2009, due to the Zonda R getting the go ahead.
Even when the C9 does arrive, though, don't expect to see a flood of Paganis coming to the UK. Unlike the Zonda, the C9 will be homologated for sale in all key markets, including, for the first time, the USA and Japan, and 50 per cent of the additional output is expected to go to these new territories.
Pagani's new factory will also allow the company to increase its maintenance activities, something which Horacio deems essential for the future value of his creations now that there are so many out there (82 Zondas have been built to date).
Horacio has also been busy with a number of other design projects recently, including a watch, a radical hi-fi system (due to be launched in September) and a boat along the lines of a Wally Tender. All these new products will be enthused with Horacio's unique take on combining art with engineering, just as we've seen with his cars.