Peugeot 207 CC
'Epure' concept reveals 207 CC's shape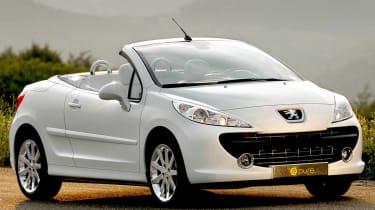 Why Peugeot bothers calling this a concept car is anyone's guess, as it is clearly the new 207 CC coupe/cabriolet.
Called the Epure on account of its hydrogen fuel cell drivetrain, production versions will be petrol and diesel powered – the fuel cell technology still has some way to go before it's commercially viable.
The 207 CC's petrol engines will top out with the 150bhp turbocharged unit found in the 207 GT Turbo. There will also be a 110bhp diesel.
The 207 CC is expected to go on sale in the UK next summer.