There's a Peugeot 205 GTI in the lobby of the hotel. It sits behind a set of sliding glass doors, and with a permanent soundtrack of tinkling muzak playing in the background. Even this most incongruous of settings can't detract from the fact that, 29 years after it was launched, it's still one of the best-looking hatchbacks ever built, with its purposeful stance, subtle bodykit and those gorgeous dished alloys. The problem is that, after a day driving the new 208 GTI, I've got no idea what its great grandfather is doing here.
I didn't want to bring the 205 into this story, but Peugeot has other ideas. It's never really fair to compare cars that have been built for different eras with different expectations. The 205 was an endlessly amusing driving companion, but even its greatest admirer would have to concede it's not really on the pace when it comes to 21st century expectations of safety or toys. Yet Peugeot seems determined to turn talk to the 205 GTI at every opportunity, from splicing '80s video of one attacking the Col de Vence into far slicker digital footage of the 208 on the same road, to assuring us that the same 'GTI spirit' links the two cars.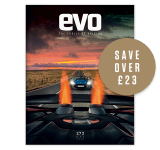 Subscribe to evo magazine
Subscribe today to have every issue of evo delivered straight to you. You'll SAVE 39% on the shop price, and get evo for its original cover price for a whole year!
Ordinarily we'd put that down as shameless marketing puff. But an early morning pre-drive chat with Gaëtan Demoulin, Peugeot's chassis boss, confirms the senior end of the company really does think the 208 encapsulates the same values as the original.
'Like the 205 we want it to be fully balanced,' he says over breakfast, 'to be comfortable in urban areas and to be comfortable on bad roads too – when a sporty car can be too stiff. It is a GTI so it is developed on the open road, not only on tracks as are some rivals. On bad roads it can be very difficult to keep a good trajectory and to be precise in your steering inputs if a car is too stiff. It has to be easy to use, that's GTI spirit.'
I head out to the car park where 'our' 208 GTI sits waiting, not entirely certain that Demoulin is remembering the same 205 GTI that I do.
Although Demoulin claims that no rivals were seen as direct benchmarks, it's clear from the 208 GTI's spec sheet that Peugeot had one very clear target. Across the board, it's pretty much a spot-on match for the third-generation Renaultsport Clio that we drove last month (evo 182).
Power comes from the familiar 1.6-litre BMW-PSA turbocharged four, here in the same 197bhp state of tune that Peugeot uses in the top-spec RCZ, meaning it has the same output that Renault claims for the Clio 200 Turbo. The Peugeot has more torque – 203lb ft versus the Clio's peak of 177lb ft, and with this accessible from just 1700rpm (compared to 1750 for the Clio). But the two cars are within a gnat's whisker on performance numbers. Peugeot's claimed 6.8sec 0-62mph time is just one tenth slower than the Clio's official figure, and the 143mph top speeds are identical.
The big difference between the two cars is ideological as much as it is mechanical. The 208 will only be offered with a conventional six-speed manual, while the Clio comes with an opinion-splitting twin-clutch transmission as standard. Of course, Peugeot doesn't currently have access to a double-clutch 'box that would fit the 208, but the company is still keen to claim the manual transmission as being a part of its driver-focused policy.
In a similar vein, it also does without Sport modes or other 'active' settings; the only driver aid is the fully switchable stability control. The upshot is a car that's slightly lighter than the Clio – 1160kg versus the Renault's 1204kg – although that saving isn't matched with the price tag. In the UK the 208 GTI will be £18,895, only £100 cheaper than the Clio, despite the cost and complexity of the Renault's trick transmission.
You can't fault Peugeot for the
launch venue it has selected. Bringing us to Nice and throwing us the keys for a day means we're spoiled for choice, with both the short-but-savage Col de Turini and the faster Route Napoleon calling us.
Things start off underwhelmingly. Apart from grippier seats and a sportier finish to the perplexingly small steering wheel (that still obscures half the instruments, wherever you position it), the GTI is effectively identical to the standard 208. The dynamics are correspondingly familiar, too – a pliant ride, springy clutch pedal and a gearshift that lacks much in the way of mechanical weight. Trundling through morning traffic in search of the road that will take us to the Col, it feels generic Eurohatch, without any of the hurry-up vibe that the 205 gave off. Or, for that matter, most of Renaultsport's recent products.
The BMW-PSA 1.6-litre turbo motor often seems to be the engine of a thousand faces, and so it proves here. In some applications it's a real cracker – zingy, rev-happy and with a palpable enthusiasm for hard use. Both the Mini JCW and Works GP stand out as examples of how good it can be working with a keen ECU and a rorty exhaust. But in other cars the same engine barely musters the character of a food blender, with a flat torque curve and a tight-feeling top end discouraging you from revving it. Sadly, in the 208 GTI it mostly falls into the second category. The engine is certainly effective, and throttle response has been sharpened over that of the less powerful versions, but it also suffers from noticeable turbo lag, plus a slight surge whenever the throttle is opened (a characteristic it does share with the 205 GTI and its old-fashioned injection system). And despite what Peugeot claims to be a sports exhaust, the soundtrack is bland, revs adding volume rather than any interesting harmonics.
Onwards, upwards, and into the mountains proper, the GTI reveals another side of its character – speed. This is a seriously quick car when asked to cover challenging ground, not just in terms of the respectable urge delivered by the dull-but-effective engine, but also through the sheer mechanical grip of the chassis. Modifications over the regular 208 look modest on paper, but the overall effect has been considerable. At the front there are new, stiffer wishbones, uprated springs (20 per cent firmer than standard), new dampers and revised software to weight up the electrically assisted steering. At the back is a new torsion-beam axle and a stiffer anti-roll bar. Seventeen-inch wheels are standard, shod with 205/45 Michelin Exactos, and the brakes have been uprated with 302mm vented front discs.
On French D-roads it comes together to deliver impressive pace – don't bet against the Peugeot proving itself faster than the RS Clio when we get them (and the Fiesta ST) together. Ride quality is as Demoulin promised, supple and well-damped, keeping everything steady on rougher surfaces and making it very easy to select and stick to a chosen line. The electric steering has a solid weight, if little discernable sensation behind it, and the car can be placed accurately and threaded down a challenging road with a high level of confidence.
Traction is rarely an issue. In slow corners with the ESP switched off you can get an inside tyre smoking if you're brutal enough, but most of the time it just sticks and goes. Even the gearshift comes good under hard use, with its speed and accuracy trumping its lack of weight – and the throttle and brake pedal are well positioned for heel and toe work, too. You can't do that in the Clio.
There's no shortage of engineering evident in the GTI's chassis – Peugeot can be proud of the changes it has wrought to the shopping-spec 208. But after a few hours in the hills it's hard not to conclude that the GTI has been chasing the wrong numbers – grip and outright speed at the expense of driver involvement. Even on near-frozen tarmac it felt borderline over-tyred, with the chassis lacking throttle adjustability at anything less than extreme provocation. Even getting it to tip its rear wheel into a corner for Dean Smith's camera required a level of commitment that you'd rarely reach on any public road.
I wasn't expecting a car that would snap sideways if you eased the throttle by more than a millimetre, I was hoping for one that would get me properly involved in the process of driving it. Looking in my notes I see 'reminds me of an Audi S3'. I doubt that's what Peugeot was aiming for.
Peugeot still venerates the 205, and in particular the GTI. The boggo versions sold well enough to save the company from an early-'80s slump that threatened to destroy it, and even three decades later the GTI is still regarded as the brand's dynamic crown jewels. Now Peugeot is mired in another crisis as the European car market stagnates, and it's in need of another saviour. Hence, perhaps, the urge to try and make history repeat itself – the company is even signing off a 208 T16 to try and rediscover the glory earned by Ari Vatanen's 405 T16 at Pikes Peak.
Overall, the 208 GTI is a good car, and a far more comprehensive bit of engineering than the underwhelming 206 and 207 GTIs ever were. If anything, it's too competent, too polished. I'd happily sacrifice some of its speed and cruising composure for a bit more excitement. What it's absolutely not is a successor to the 205 GTI, either dynamically or spiritually. And, having driven it, I'm not sure why Peugeot ever suggested that it would be.
Specifications
Peugeot 208 GTI
Engine In-line 4-cyl, 1598cc, turboCO2 139g/kmPower 197bhp @ 5800rpmTorque 203lb ft @ 1700-4500rpmTransmission Six-speed manual, front-wheel drive, ESPFront suspension MacPherson struts, coil springs, dampers, anti-roll barRear suspension Torsion beam, coil springs, dampers, anti-roll barBrakes 302mm ventilated discs front, 250mm solid discs rear, ABS, EBDWheels 7.5 x 17 front and rearTyres 205/45 R17 front and rearWeight (kerb) 1160kgPower-to-weight 173bhp/ton0-62mph 6.8sec (claimed)Top speed 143mph (claimed)Basic price £18,895On sale May